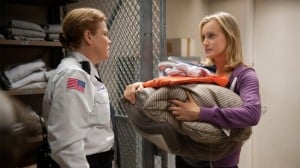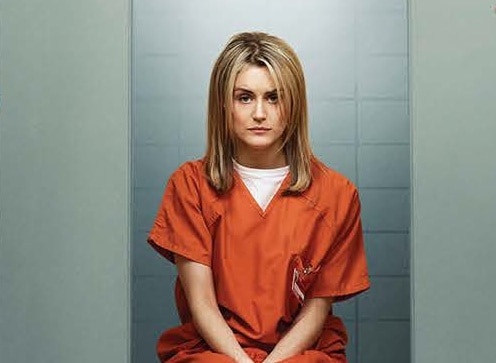 By breaking into the Emmy field yesterday with 14 nominations, including Lead Actor nods for Kevin Spacey and Jason Bateman and House of Cards entering the Outstanding Drama Series race, Netflix has now established itself as a legitimate awards contender. However, despite the Emmy love for House of Cards and Arrested Development, Netflix's best, most award-deserving show only just premiered last week. Orange Is the New Black, a new comedy-drama from Weeds creator Jenji Kohan and based on the memoir, Orange Is the New Black: My Year in a Women's Prison written by Piper Kerman, has created a more fully formed world and fully realized characters in the first few episodes I've seen than any other original program from Netflix. While the show may lack the prestigious pedigree of House of Cards or the cult following of Arrested Development, Orange Is the New Black actually lives up to its hype and succeeds as both entertaining and engaging television.
The opening scene of Orange Is the New Black takes place in the showers of a women's prison, but the series is not interested in sexually exploiting its characters. Instead, Orange Is the New Black examines issues of race, gender, sexuality, and the American justice system with both humor and heart. We follow the story of Piper Chapman (Taylor Schilling), a woman in her early thirties who is sentenced to 15 months in prison after she is convicted for transporting money for her drug dealing girlfriend, a crime she committed a decade ago.
While Piper's crime may seem like the stupid action of a careless and spoiled, post-college girl, Orange Is the New Black ensures that we empathize with her through the use of flashbacks. These flashback scenes never feel contrived or out of place; moments like Piper tearing up while accepting the proposal from her boyfriend (played by Jason Biggs) on the beach illustrate the character's caring, emotional side, making us feel connected to Piper and her relationship. The writing, combined with Taylor Schilling's fantastic performance, allows us to see Piper as a real human being, someone just like us or a friend that we know. With each new triumph or terror she faces in prison, we cheer for Piper, or shake our heads in disbelief at the horrors she must endure. Piper is a strong main character that we root for, and the fact that Orange Is the New Black crafts this character so well in only a handful of episodes speaks to the level of talent behind this series.
Furthermore, with each new episode of Orange Is the New Black, we also learn more about Piper's fellow inmates, the friends and foes that fill the prison's cells. Minor characters like Red and Claudia, become more multi-dimensional with flashback stories that detail how they came to be in prison. These characters become almost as fleshed-out as Piper, creating an extremely strong supporting cast that is only made more impressive by the superb actresses, such as Kate Mulgrew and Michelle Hurst, who are playing these women.
Overall, Orange Is the New Black may not be Netflix's most promoted or valued program, but in my opinion, it certainly is the streaming service's best series to date. Having already devoured almost half of the show's first season, I cannot wait to continue to watch Orange Is the New Black and see how much better this already great show can get.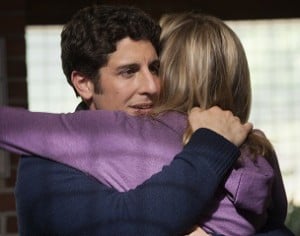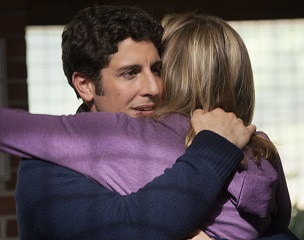 Other thoughts:
– I tried not to discuss too many spoilers in this review, but when I do a whole season review (probably sometime next week), I will definitely get into more specific plot details.
– Like Weeds, Orange Is the New Black has a ton of dark humor in it, and right now, I'm loving every ridiculous challenge Piper faces in prison (like a fellow inmate having a crush on her and the peeing on her floor when Piper doesn't reciprocate her feelings) purely for their comedic value.
– Taylor Schilling is delivering a terrific performance as Piper. I've never seen her in anything else (I never watched NBC's Mercy and don't really count her role in Argo since she barely speaks), but I'm thoroughly impressed with her acting abilities. She is able to sell all the dramatic and comedic moments of Orange Is the New Black with ease.