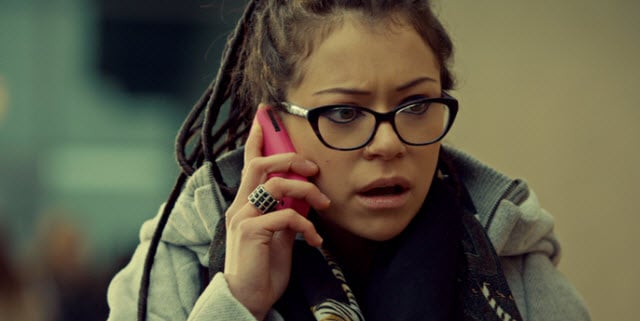 This should come as no surprise, but the show that's put BBC America on the map, and scored loads of award nominations for star Tatiana Maslany is coming back. Orphan Black has just been picked up for season three.
The show will return for another 10 episode run, with production beginning in Toronto this fall. So what to expect from the new season? Co-creator John Fawcett explains via THR:
 "A lot of the things that we put in motion at the end of season two are obviously big story components going forward and new pieces to the puzzle," he said at the time. "We believe in giving the audience answers, but we have our mysteries and we want to earn the answers. This is kind of a new aspect to the larger puzzle that is Orphan Black."
Season three ended with (spoilers!) Mark (Ari Millen) as a male clone, which obviously opens up huge possibilities for season three.
Also coming up for BBC American is another season of David Tennant's Broadchurch and naturally, Doctor Who with the new Doctor, Peter Capaldi.
But Orphan Black is wholly BBC America's creation, and they're not simply porting a BBC program from across the pond. The show has quickly become one of the best sci-fi shows on TV, and really, one of the best sci-fi shows within the past ten years or so, as it's a genre that has waned a bit in recent years despite many science fiction blockbuster films.
[Photo via BBC America]