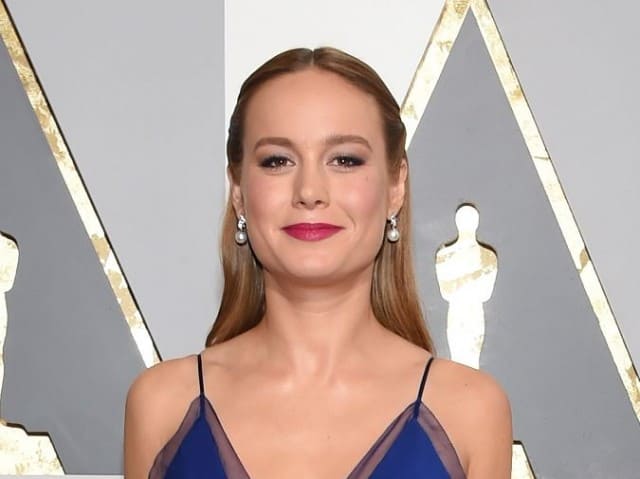 Brie Larson deservedly won the Academy Award for Best Actress last night at the Oscars, and she gave a fantastic speech that thanked everyone from her parents to her Room costar Jacob Tremblay and illustrated just how grateful she was for how people have reacted to Room and her performance in it. However, Larson's best moment of the night wasn't one that was captured on television during the Oscars telecast, but it has been shared by countless people online since last night. So what did Larson do? She went up and hugged every single sexual assault survivor that was a part of Lady Gaga's Oscar performance.
Those who watched the Oscars last night will certainly remember Lady Gaga's incredibly powerful rendition of her song "Til It Happens to You" from the film The Hunting Ground. During the performance, the Grammy-winning pop star was joined by a group of fellow sexual assault survivors, who had words such as "not your fault" and "unbreakable" written on their arms. Together, they all joined their hands and raised them up together after Gaga had finished her song, and it was clear that the performance had an amazingly emotional impact on the audience, as the entire crowd gave them a standing ovation and many of them had tears in their eyes.
Larson was one those celebrities that was left teary-eyed after Lady Gaga's performance. As mentioned above, during the telecast's commercial break after the song had ended, she went up to the sexual assault survivors that had shared the stage with the pop star and embraced every single one of them.
Watch the videos of Brie Larson hugging the survivors and Lady Gaga's emotional performance below:
Then best actress fave Brie Larson gets up, hugs each, every one. #Oscars pic.twitter.com/OI3cFZaLtl

– Chris Gardner (@chrissgardner) February 29, 2016
Photo by Ethan Miller/Getty Images