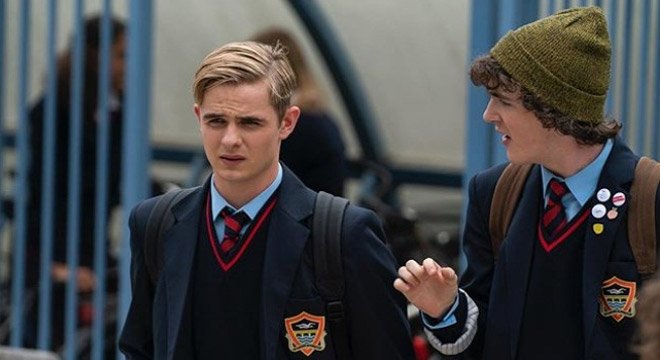 Some actors can spend the majority of their careers waiting for a big break opportunity to come along, but luckily for Otto Farrant he hasn't had to wait too long. Still in his early 20s, Otto is already well on his way to becoming an international star. Best-known for his role as the title character in the Amazon Prime series Alex Rider, Otto has gotten to share his talents with a ride audience and so far the people are loving it. In his role as Rider, Otto has the ability to show the versatility of his skills through the complexity of the character. With the show already locked in for a second season, viewers are excited to see what Alex's journey has in store. Continue reading for 10 things you didn't know about Otto Farrant.
1. Alex Rider Is His First Starring TV Role
Otto has been working in the entertainment industry for over a decade and he's gotten some great opportunities along the way. However, being cast as Alex Rider is the first time he's been the star of a TV series. However, you'd never be able to guess that he's new to the starring spot because he handles himself with such grace and professionalism.
2. He Began His Career When He Was Only 11
Most 11-year-olds are still figuring out what they're interested in, but by the time Alex was that age he had already discovered that acting was his calling. At 11-years-old, he began his career by acting in stage productions at places like Shakespeare's Global Theatre and the National Theatre.
3. He Isn't Actually A Teenager
Despite the fact that Alex Rider is a teenage character, Otto isn't a teenager in real life. Although we don't know his exact date of birth, he is said to be around 23 or 24. Fortunately for him, he hasn't lost his boyish good looks and it's easy to believe that he's much younger than his early 20s.
4. He's Not On Social Media
These days, it's almost impossible to believe that someone in their early 20s wouldn't be active on at least one social media site. However, that appears to be the case with Otto. As far as we can tell, he doesn't have an account on any social media platforms. With that being said though, there are some fan pages that have been created in his honor.
5. He Read The Alex Rider Books When He Was A Kid
Otto was a big fan of the Alex Rider series long before he was cast in the series. He told NME, "I wasn't a big reader when I was a kid, but Alex Rider was one of the only series' that I did read. That and Noughts And Crosses. I can remember being about 12. Point Blanc was the book that I always loved most, so when I found out that they were making that book into the series, it was one of those 'pinch me' moments."
6. He Loves Doing Action Scenes
Being part of an action project can be a challenge for many actors because it requires a great deal of physicality. While this may have been a daunting experience for some, Otto enjoyed getting the chance to do some of his own stunts and he also got to undergo lots of cool training. Otto told AssignmentX, "I did some Krav Maga, I did a lot of climbing, and I did, working with a personal trainer, running, cycling, swimming, general active stuff."
7. He Likes To Stay Positive
Life is full of ups and downs and it can be difficult to maintain a positive outlook when things aren't going the way you want them to. Otto does his best to be positive and see the bright side of every situation. Having this type of mindset is beneficial no matter what you do in life, but especially when you work in a field that comes with a lot of rejection.
8. He Enjoys Snowboarding
Even outside of the training he did for his role in Alex Rider, Otto is a very active person. One of his favorite forms of activity is snowboarding. He loves to snowboard whenever he gets the chance and while he is very experienced, he didn't actually do the snowboarding stunt in the series.
9. He Likes To Learn New Things
Otto is the type of person who is always up for a challenge, so he enjoys the process of learning new things. One of his favorite things about working on Alex Rider was the fact that he was able to learn so much through his training. This level of curiosity will definitely come in handy throughout his career.
10. He's Good Friends With Brenock O'Connor
Being able to form a genuine bond with a co-worker is always nice, especially when it's someone you work closely with. Otto and his Alex Rider cast mate Brenock O'Connor built a tight bond during their time working together. They continue to be close even when not filming for the show.