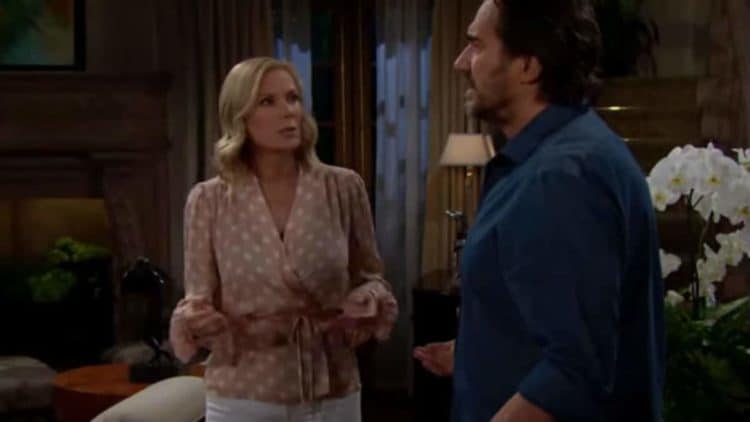 The Bold and the Beautiful fans have so many concerns about things that don't seem to be answered right away, and we want to discuss that a little further. We think that going into this week is going to prove quite interesting for all of us, and that might just be a situation we have to face on our own. But, for now, we have to wonder if there is a situation we can handle that doesn't have anything to do with what's going on that might break in the coming weeks. For now, though, we have some questions, some concerns, and some worries for the people we love the most around LA, and it's not getting any better until we get this off our chests.
Ridge and Brooke and Their Marriage
There is nothing that makes much sense to us when it comes to these two, and we are concerned. Things don't seem to be going well for them in the grand scheme of things, and we have to figure that there is more to this than we originally thought. For example, did you know that they are never going to agree on their kids? We so badly want them to agree to disagree on this one and then let it go, but they can't do it. They hurl so many hateful words, blame, and awful stuff at one another, and it makes us sad. It makes us feel horrible that they've become these people, and we cannot handle what is going on in their lives. They have some issues to face, and they have some situations to get control of. Will they be able to, or will they need more help than they can get? We want to see them work it out, but we don't see it happening.
Hope's Entire Life
Everyone in the world knows how to handle Hope except for Hope. She has no idea how to live her life her own way. She constantly lets other people make the decision for her. Her mother made all her life decisions for so long, and then she let Liam make them. She let him make choices that should have been her choice, but she can't muster up the courage to do things like that on her own. She cannot seem to make it work, and that is a problem we cannot handle in any capacity. We want to see her take control of her own life rather than allowing Thomas to do so, but she's married him, they will go on, and she will not have the life she wants. But, it's her choice not to have the life she wants, because she is constantly waiting on other people to tell her what to do and to make her decisions for her. We almost don't feel bad for her.
Steffy's Situation
Right now, she's high on life. She has two beautiful babies, she's happy, and she's free. She's not in the middle of a torturous love affair with Liam and Hope, and she's living her best life. But we know that will soon be taken from her. Her best life is almost over, and there is nothing we can do about that. There is nothing that we can do that will change that for her. We cannot make this stop, or go away, or become any different. All we can do is sit here, hope for the best, and wonder if we can get anything to work in her favor. She's about to find out what true heartbreak feels like when she loses this baby she adopted and has loved as her own for so long. She doesn't know this – and neither does anyone else who should know this – but Phoebe is Beth, and she is not her baby to love. We are so sad for her and what we know is going to happen. We worry she will crumble, and we worry that this will take the ugliest and most horrifying toll on her life and all she's managed to accomplish in the past few years. She's done so well, and we don't want to see that crumble around here again.