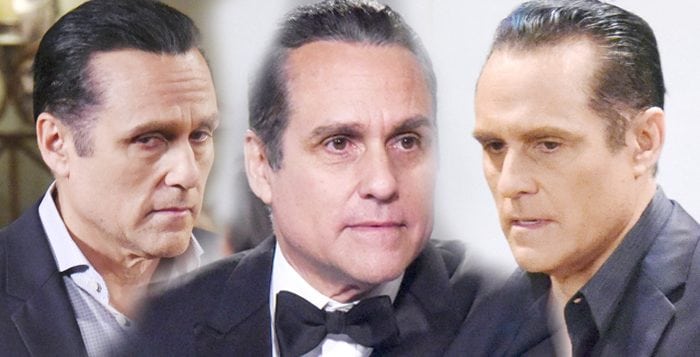 General Hospital fans know a thing or two about change. We know that there are people who come into Port Charles as one person, but they leave a new person. We love that, sometimes. Other times, of course, we aren't such big fans. We aren't such big fans because there is always something else going on that might make the difference. We know this. We know that there is nothing we can do, and we know that there is nothing that will change about any of this. But, we also know that there is always another chance people will move on from the hard things in their lives. In the 2018/2019 year, we've seen some of the most positive changes in some of the characters we love the most. We have to honor those. And we have to say how much we love them.
Sonny
He's been slowly changing for a while now. His wife told him she was done with his mobster lifestyle, and he wasn't okay with that. But, he did know that he had a choice to make. He could change his life and be the husband and father that she needed and that their kids needed, or he could continue to be a mob man. He chose to do the right thing. He didn't change overnight, but the changes he's been making have been amazing. He's been good. He's been great. He's been amazing. He's been the kind of man who has made the right choices and done the right thing. He's been the kind of man who has made things feel better for his family, and we love that from him. He's been changing, and he's been very good about making a more conscious effort to be a better person for some time now. He's been all the things that are good in the world, and we love it.
Carly
After Morgan was killed, she was a wreck. We get it. We don't blame her at all, but she did. She blamed every single person in the world for his death. She was not happy about any of it, and she was not having a moment of this at all. She was upset. She was having a horrible time with things. She was upset. She was horrified. She was a mess. She did bad things, but she's been changing. She's been dealing with her feelings. She's been making changes in her life that are making her a better person. She's been changing her life to make things a little better. She's been more patient. She's been kinder. She's given herself a lot more grace, and she's given the people in her life a lot more grace, too. She's been someone we love, and that's been good news for all of us. We like it, and we like her changes. She's better for all of this, and it took some time for us to see that. We hope it sticks around.
Drew
Okay, so we didn't see him change, per say. Well, maybe we did. He did, after all, think that he was Jason for a long time. He didn't know he wasn't Jason. He was taken, he was brainwashed, and he was given his twin brother's memories. He didn't know. He probably didn't know at the time when he was living his life as Drew, but we've seen him change twice. The first time from Jason to Drew, who is still a man who is relatively quiet and kind. We then saw him change again, but a bit indirectly. We didn't know Drew when he wasn't under the impression that he was Jason. However, we did get to see Franco get all of Drew's memories, and we did get to see this fall apart. Drew was not a nice man. He was a horrible person. He did horrible things. He was out of control, and we don't like him. So, while we didn't get to see him change per say, we did get to see the alternative, and we are glad he's not that man. We don't want to see him change back to this person by getting his memories back, ever.