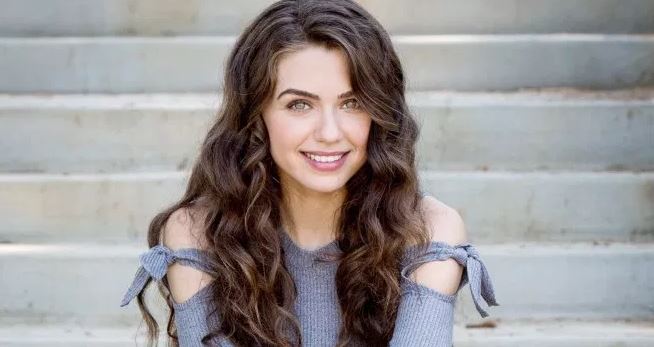 Days of Our Lives fans get to say a lot of things about their lives, but they get to say so much more about the show. One of the main draws of shows like these is not just the drama that the characters bring, it's the beauty they bring, too. There is nothing that will work out for anyone else other than a man and a woman who look so good when they are in the middle of being horrible people to their friends and family. We find that we can forgive them more easily and better when they are more attractive, and that makes us want to tell you who we think might just be the hottest actresses on each of the soaps this year. It changes all the time, and this year, we are just loving these hottest female faces.
Victoria Konefal
She's the beautiful Ciara, and she's killing her role this year. She's so much more attractive now that's found herself in the middle of the craziest love story of the year. She's young, she's beautiful, and she's managed to tell the world to go away and leave her alone while she works on making her own life decisions. She's fallen for a murderer who went through Salem a few years back and killed many people. The man who made Abigail's life totally miserable is the man she's fallen for. She knows he's a former killer, a stalker, and a man who doesn't make very good choices, and she knows that he has a lot of mental issues he has to keep very closely monitored and medicated or he could kill her. It's not a good situation for her, but it's one of those things. She's made a name for herself this year, and she's made it a fun situation for everyone. She's got her mother worried about her so much that she cannot even handle it, and she's got everyone else working behind her back. And she literally does not even care. She's in the middle of something that works well for her, and we love that.
Camila Banus
So, she's gorgeous. She is literally the kind of woman who makes you want to love her even though she's a horrible person, and she has certainly spent the year being a horrible person. She's managed to make everyone mostly hate her immediately after we all spent a lot of time working on being the person we all felt the worst for as she was being framed for a murder she did not commit. It's been a dark year for her, but we have loved seeing her turn into a heartless woman who is no longer afraid to make anyone feel that she hates them and will do anything she can to take them down. She's done the most fantastic job of it, and we cannot get over how much she's gotten us to love her as a character who is so mean. She's genius, and she's made that her situation. Her skill playing this newly formed version of herself is what we love the most, but she's also beautiful to make it that much better.
Kate Mansi
She's the Abigail we grew to know and love for many years, and she is back. We loved the gorgeous and talented Marci Miller when she took over the role, but we also love that OG is back. We love her so much, and she's doing one heck of a job with this role coming into it after it was so perfectly played by Miller. Miller made us really believe that Abby was a new person with multiple personalities, and now that is something that we have to deal with on our own. And right now she's working this role like she's been meant to her entire life. It cannot be easy to come in at this point in the character's storyline and take over something like this, but she's done it so well that we just love every second of it. She's gorgeous, but she's also someone who impresses us so much we cannot even handle what is happening with her. She's made it amazing for all of us to love her.