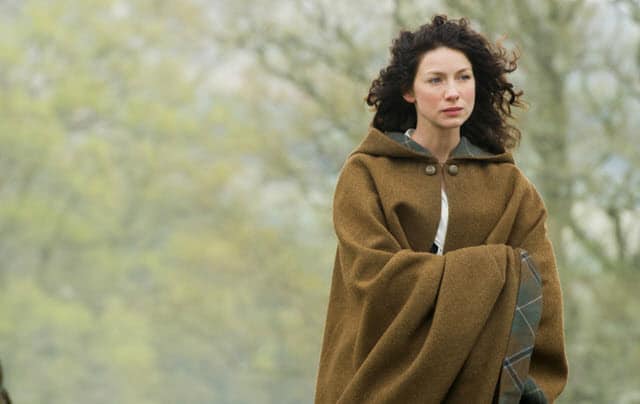 I want to begin tonight's review of Outlander by praising Tobias Menzies, who elevates every scene that he's in. His dual roles as Frank/Jon Randall are so important to the show; not just in terms of plot, but how real he makes these people. Frank is a distinct character from Jon, but they're not mirror opposites. Frank's rage at losing Claire pushes him to the edge, but the difference between Frank and Jon is that Frank chooses to be better. In a show about agency and choice, he is one of the good guys.
"Good God."
Good God indeed.
Tonight's episode stepped out of Claire's head and expanded the Outlander Universe. We went back and forth in time, but without Claire; present-day Frank is our avatar for significant time. We get to see him as a character without Claire's perspective, and it's telling that he's exactly the same kind, warm, gentle human being that he was without her. His rage at Claire's disappearance, the police work done to find her, the thugs trying to shake him down; all of these things are reasonable responses to his loss of Claire. But when he realizes that he is turning into someone that isn't reasonable, turning back into a soldier, he decides to move on. That is who Frank is: he tries to be better, no matter the cost.
Claire has been under constant threat of assault from the moment that she landed in the past. The agency that she had won in her own time was stripped away from her. But she has been regaining that power, little by little, as these episodes progressed; she's learned how to fight, how to survive. So when the moment came tonight, while having a moment of intimacy with Jamie, she thought she was prepared.
Claire Fraser was raped. A British soldier held her down and forced himself upon her and for a moment, he violated her. Everything she gained was once again gone; Jamie, her protector, had gun to his head; the rest of the men were too far away. So she took a knife and stabbed the bastard in the kidneys and bled him. Jamie ripped the throat of the remaining redcoat, and Jamie picked Claire up.
I think the turning point for Claire's character tonight, the thing that led her to Craig na Dun, was realizing what it would cost for her to have true agency. She killed a man, had her hands bathed in her blood; he deserved it as much as any man can, but the fact of the matter is that a man is dead and she is the cause. So when the opportunity came for her to use the stones and go back to her own time, where her agency could be won through wits and intellect, she took it. She was supposed to build upon the spilled blood of the past, not be a part of it. She was supposed to be a part of a new wave of feminists that lead closer and closer to true equality. Her destiny lies elsewhere.
I think it was a brave choice on the part of Claire, and it mirrors the same choice that Frank made when deciding to leave Inverness. Her desires in the past!Scotland were doomed to end violently, as were Frank's in the present. So they made the only choice they could: they tried to leave. And as they screamed for one another across a widening gap, you could see the end of the rainbow.
The ability to live freely, without fear, is something humans of all interests have been striving to achieve for centuries. Bodies, blood, and bone have been spilled and broken and yet the progress we have made since the dawn of history is incremental. We are only a few steps removed from the witch-burnings and still entrenched in victim-blaming. In 1945, Claire has control over her life. In 1945, she can see the end of the rainbow. In 1743, her same attempts to live her life results in blood. Which one would you choose?
Jon Randall is what she'll have to destroy to survive. He is a rapist, a murderer, a thief, a brute. He does these things because he can, not because he believes in their use or power. He is not even a man of king and country; he does not intend to rape Claire for information because he know that whatever she knows is useless. Anything she knows that is dangerous could easily be rectified with one quick flick of a knife or trigger finger. Jon Randall rapes because he likes it. Jon Randall rapes because it's fun. Jon Randall destroys because nobody says he cant.
When Jamie bursts into the room, saving Claire from certain torturous hours, he bursts into laughter. "Good God," he says, grinning, looking back and forth from Claire to Jamie. What fun has the universe brought him this time?
See you in April.
[Photo via Starz]