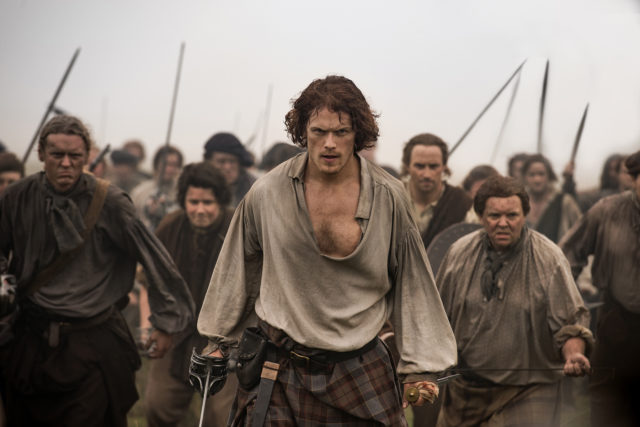 Highlanders Rejoice! After months of anticipation, the #Droughtlander has finally ended. Starz has officially announced that the third season of the addicting series will premiere Sunday, September 10. The news comes today complete with new cover art and a teaser trailer showing the emotional and literal divide between star-crossed lovers Claire Randall Fraser and Jamie Fraser. The third season will be based on Voyager, the third novel in Diana Gabaldon's Outlander series.
Per the staple of time travel in the series, Jamie and Claire Fraser are separated by 200 years in time. Starz's official press release gives us some indication of where the series premiere will start, and it might not necessarily where it left. Recall that the Season 2 finale was split between two different timelines: 1746 and 1968. In the 18th century, Jamie sent his pregnant wife back through the magical stones from whence she came so that she and their child would survive the end of the Jacobite rising. In 1968, a now middle-aged Claire Randall returned to Scotland with her grown daughter to finally reveal the girl's true parentage. The final scene (SPOILER) revealed that Jamie had not died in the Battle of Culloden as Claire believed, leading Claire to announce she had to find a way to go back to her husband.
However, Starz's press statement shows that the season premiere might not necessarily pick up after that pivotal moment. We'll get glimpses of present-day Claire trying to get back to Jamie as their daughter struggles with the reality of that situation, but the first few episodes will largely comprise of those missing twenty years in the couple's lives.
"The story picks up right after Claire (Caitriona Balfe) travels through the stones to return to her life in 1948. Now pregnant with Jamie's (Sam Heughan) child, she struggles with the fallout of her sudden reappearance and its effect on her marriage to her first husband, Frank (Tobias Menzies). Meanwhile, in the 18th century, Jamie suffers from the aftermath of his doomed last stand at the historic battle of Culloden, as well as the loss of Claire. As the years pass, Jamie and Claire attempt to make a life apart from one another, each haunted by the memory of their lost love. The budding possibility that Claire can return to Jamie in the past breathes new hope into Claire's heart… as well as new doubt. Separated by continents and centuries, Claire and Jamie must find their way back to each other. As always, adversity, mystery, and adventure await them on the path to reunion. And the question remains: When they find each other, will they be the same people who parted at the standing stones, all those years ago?"
Enjoy this emotional teaser of the Frasers, and tune in when Season 3 of Outlander premieres September 10 on Starz.
https://www.youtube.com/watch?v=btmLMeaVEfA