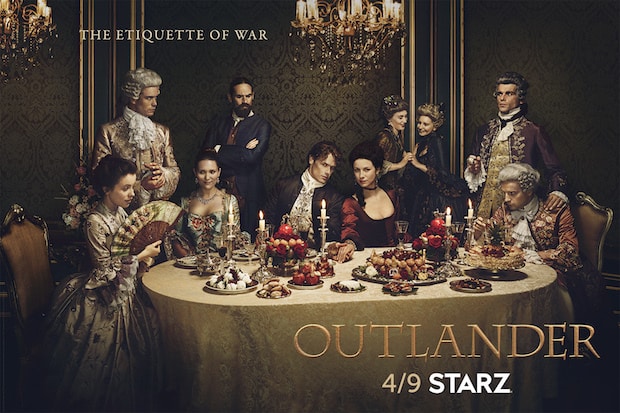 While season 2 of Outlander doesn't start until April we continue to get more bits and pieces of what to expect from the hit drama series on Starz.  The latest everyone's been talking about is the new poster that reveals Catherine in a stunning red dress. According to Scotland Now, the second season of Outlander is based on the book by Diana Gabaldon, titled Dragonfly in Amber. In the book, Jamie and Claire's main mission is to prevent the Jacobite Rebellion and ultimately change history. Naturally, this presents the couple with an array of new challenges, including mingling with the higher-ups in French society.
"I don't think it's ever going to be smooth sailing with these two," says Catriona Balfe. "We're going to meet some very interesting characters who may become the new enemies of Claire and Jamie – one being the Count of St. Germain."
In a video released by Entertainment Tonight, Sam Heughan and Balfe talked about the challenges ahead for Jamie and Claire.  Heughan explained how this season is different from the first because many of the characters' relationships have developed in new directions.
"It feels more complex in a way," Heughan shared in the video. "These relationships have developed and our relationship has certainly gone into a new place."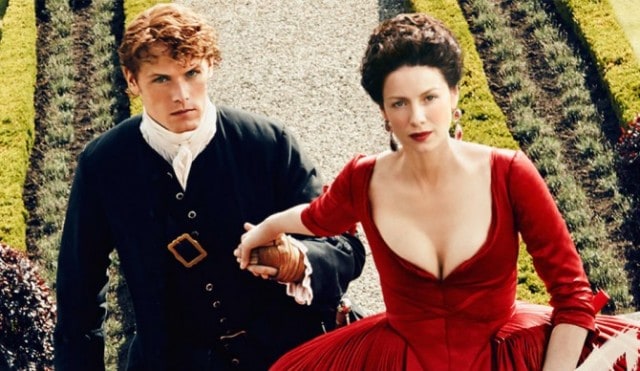 Heughan also added, "I'm proud that Scotland is leading the way when it comes to minimizing waste and making things last.. I hope we can inspire people to pass on items of clothing they no longer use instead of just binning them. By passing on items such as clothing, toys and furniture, and buying vintage or second-hand, we can all help to reduce our impact on the planet."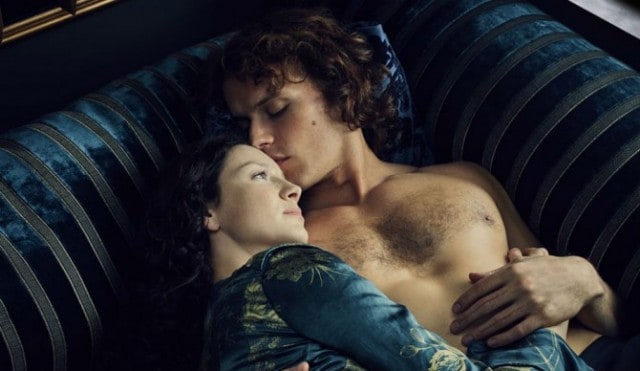 Despite the challenges of Jamie's past trauma, Balfe revealed to Inquisitr that the Jamie and Claire's bond will grow stronger as they work through their issues. All the while, Claire is also pregnant with the couple's first child.  And most recently we got a glimpse of the pros and cons of the two husbands Frankie and Jamie.
In an interview with TV Guide Balfe discusses the two relationship.  Balfe says that she always looks at Claire and Jamie's relationship as a different entity than Claire and Frank.  When the audience first meets Claire and Frank, yes there's love there and it's a "true love" but Balfe always sees Claire more at that point like a girl and the power in that relationship is very much Frank.  Frank is almost like a teacher whereas Claire is like a student in a way.
The tragedy of that relationship which is so great to watch is that Frank really loves Claire.  People tend to bash on Frank but the reality is that he's got this woman back who he loves and she's pregnant with another man's child and she tells him that she'll never love him again.  I mean think about that situation in real life.  You gotta have some sympathy for Frank at this point right?
When Claire and Jamie meet each other, that's a very "equal" love.  It feels and probably is something bigger than the both of them.  It spans time, space, and just about everything to be as powerful as it is.   They are true soulmates.
Don't miss the Season 2 premiere of Outlander April 9th on Starz