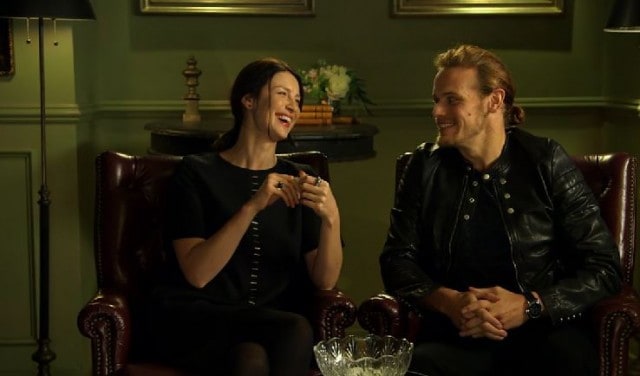 We're less than two months away from the premiere of Outlander Season 2, but if that is still too much of a wait for you, don't worry because the show's stars are here to help make the hiatus less torturous. Continuing their series of videos on the Outlander Facebook and Twitter pages, Caitriona Balfe and Sam Heughan answered more questions from the Starz series' fans, and in this most recent video, the co-stars even displayed their acting chops as they each tried to impersonate their characters and each other.
In the video below, Balfe and Heughan are asked three different questions, the first of which is about who they think would be voted off Survivor first if they were contestants on the show. Their answer, and the reason for it, might surprise you.
Following that question, the pair then give their thoughts on what the Outlander set would be like if all the whiskey that the actors are drinking was real.
"Well, the acting would probably get better," Heughan says, as both he and Balfe laughed.
However, their answer gets even better after Balfe accidentally slurs her words while trying to say "cirrhosis of the liver."
"Been at it already?" Heughan says to her before the both of them break down laughing again.
Finally, the last question in the video asks Balfe and Heughan to do their best impressions of each other and of Jamie and Claire, and while Heughan's version of Claire is pretty terrific, Balfe's impression of her onscreen husband might be even more entertaining. Watch the video below, and comment with which impression you thought was best.
Watching @caitrionambalfe and @SamHeughan impersonate Jamie and Claire will surely make your morning. 😂#Outlanderhttps://t.co/yKlcd7hq88

– Outlander (@Outlander_Starz) February 22, 2016
Outlander Season 2 premieres on Saturday, April 9, at 9 p.m. on Starz.
[Photo via Starz]