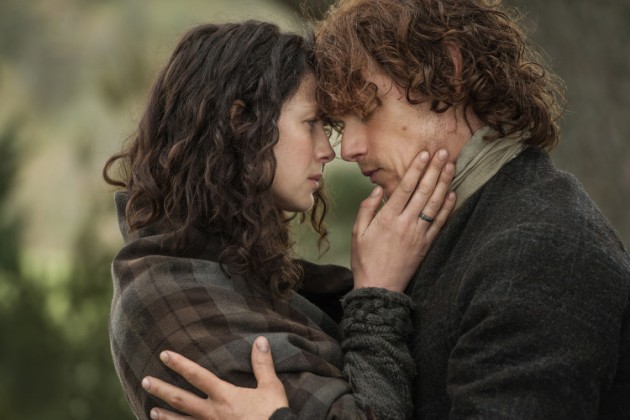 Fans of Starz's Outlander still have to wait more than three whole months for new episodes of the time-traveling, Scotland-set romance series. However, the show's stars and Outlander executive producer Ronald D. Moore are giving everyone a little bit of an early Christmas present with this brand new teaser, which features footage from upcoming episodes of the series (eight episodes still remain in the show's first season) and brief interviews with the actors who portray Claire, Jamie, and Dougal about what can be expected for their characters when the series returns in April.
"The stakes are going to change, and a lot of the relationships will deepen," Moore says in the video.
Specifically, it looks like the love between Claire and Jamie, who got married in the season's seventh episode, "The Wedding," will continue to grow, despite the challenges they face.
"Jamie and Claire's relationship really begins to blossom," Outlander star Sam Heughan says about the connection between his and co-star Caitriona Balfe's characters.
However, it's not all about romance. Heughan also promises that this season is leading towards an "epic battle," and given the way the midseason finale ended, with Claire being attacked by Black Jack Randall, just as Jamie breaks in to stop him, I wouldn't expect anything less.
"If you enjoyed the first half of the season, the second half of the season's a lot darker," Heughan promises. "So tune in."
Tune in? We just may do that.
Outlander returns to Starz on Saturday, April 4, 2015. Watch the new preview below, and if you haven't checked out the series before, Starz will be running a marathon of all eight Season 1 episodes on Christmas Day.
Find out from the cast and crew what's to come when #Outlander returns in this special clip for #OutlanderOfferings https://t.co/r4KP4Fe8cs

– Outlander (@Outlander_Starz) December 19, 2014
Photo via Starz