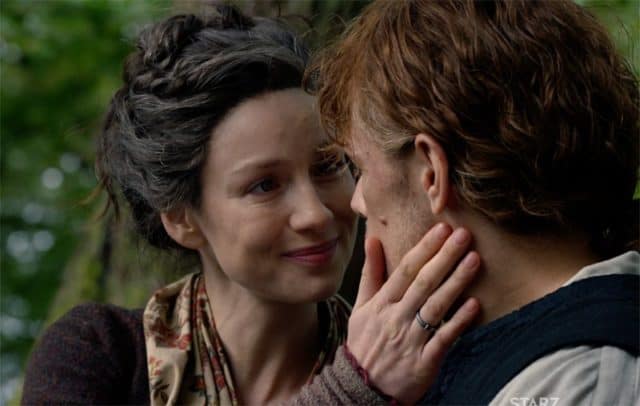 At the Television Academy's tribute panel to Outlander's third season this week, the producers and cast talked about the best of bringing Diana Gabaldon's book series to life. Based on Gabaldon's third book in the Outlander novels, "Voyager", the third season spanned twenty years that star-crossed lovers Claire and James Fraser lived apart, found their way back to each other, and landed in what would be their new home. Series stars Sam Heughan and Caitriona Balfe dissected Season 3 in front of a panel of fans. Along with the writers and producers responsible for breaking down the series, they discussed what did, and what didn't, make it into the season. Series Creator and Executive Producer Ronald D. Moore also teased what to expect during Season 4, which is currently in the middle of production and set to debut in the Fall of 2018.
On Season 3
"At the end of Season 2, there's this big 20 year span of their lives. They move into their middle years, they have children, they experience the whole spectrum of life separately from each other, and then suddenly they're reunited. So the two characters coming together in Season 3 was really about 'getting to know you all over again'." Moore was excited about seeing that evolution play out, but he wasn't the only one. Heughan believes the Fraser's marriage was better by the end of Season 3, as was everything else. The season finale was nominated for a Guild Award for its impressive rendering of a hurricane brought to life around the Fraser couple.
"[This show is] leaning into emotion, for good or for bad. If it's terror, it's thriller, or it's love. Emotions are very large. Diana sort of established that in the books. She wasn't afraid of really going to those places…we lean into those feelings. We don't undercut them by winking at the camera, or being cynical, or joking about them." By keeping this in mind, Moore and his team give themselves permission to break some major writing rules, one of which is not to let the scene go on for more than two pages. The reunion episode went on for a whopping 25! Executive producer Matthew B. Roberts had faith in letting the moment speak for itself. "We trusted the storyline, we trusted the actors, that they would make it emotional and want to be there with them…they were clothed in love."
Creating The Aesthetic
Speaking of clothing, Balfe had a lot to say about Claire's fashion sense, which spans multiple decades and countries, in different centuries! "When I was talking with Terry [Dresbach, Costume Designer], she always wanted to retain this through line for Claire, where even if she was in 18th century Paris, she would retain her 1940's eye and her 1940's aesthetic." Dresbach being a person who believes the clothes define the person, "particularly for Season 3, we brought back some of the clothes that Claire had already worn. They were kept in the trunk. They were repurposed." says Moore (with particular pride for the ingenuity that belongs to his wife). This repurposing is a trend that is sure to carry over into Season 4, which finds the Frasers on American soil prior to the American Revolution.
The Game Plan For Season 4
When Outlander returns for its fourth season this fall, the Frasers will be in a whole new country. Just because they've finally put their past to rest, doesn't mean that new threats aren't around the corner. "They're coming to North Carolina, where they're going to be home-based. Season 3 was a year of transition. Season 4 is a year of settling down and trying to make a home, literally and figuratively. We're at the edge of the frontier and the wilderness. You're there at a time of tumult in the American colonies. This is a time when there is slavery in the south, American Indians on the frontier, the rebellion that will blossom into the American Revolution is brewing in the North. And they land smack dab into the middle of all this, and all those sorts of cross-currents are buffeting them all the way through Season 4." Moore's plans for the series also include a big change from the book (SPOILERS AHEAD).
In the Outlander book series, fan favorite character Murtaugh dies at the Battle of Culloden. Moore and his team decided that they would not go that route, and instead, have Murtaugh survive. "I just really like the character. We felt he was part of the family. We talked to Diana, ran it by her, and she was like, 'Yeah, I could see that. I like Murtaugh. I don't know why I killed him, I don't remember.'" Not only will Murtaugh be alive when Season 4 returns, some spoilers around the web indicate that he will join Claire and Jamie in America. "We approach the books with a lot of respect and a lot of love. But as the series goes on, year by year, you are essentially also creating a certain reality for our characters [as was done with Murtaugh]…You're always trying to honor the spirit of the book, trying not to violate fundamentals of who the characters are, and the great story that Diana has laid out for us. It's always with the intention of 'What's the best version of this that we can do on television?'"
To that end, another big change might need to be made to keep the series pushing full steam ahead. As was the case with HBO's Game of Thrones, expanding the story beyond Gabaldon's books, or else breaking up one book to cover two seasons, is not out of the realm of possibility.
And if you think that is a twist, there's one MAJOR SPOILER Executive Producer Maril Davis let slip, and it's not just about the series. Remember in the very first episode of Outlander, there was a man in a kilt staring up at Claire Randall in 1946? The 18th century clansman in the kilt who comes to the present, is Jamie. "That is Jamie. It hasn't been explained and hopefully we get to that point where we can explain it. Diana has said many times. That is not a spoiler!"says Davis, though it was certainly a surprise to many. Heughan was quick to say that Gabaldon herself has shown that particular scene to the cast and crew, though Matthew Roberts immediately claimed that the series intended to change that part of the story. The series was not going to make that mysterious pilot figure James Fraser, but because of Davis's slip of the tongue, that might change.
Season 4 of Outlander premieres Fall 2018 on Starz.