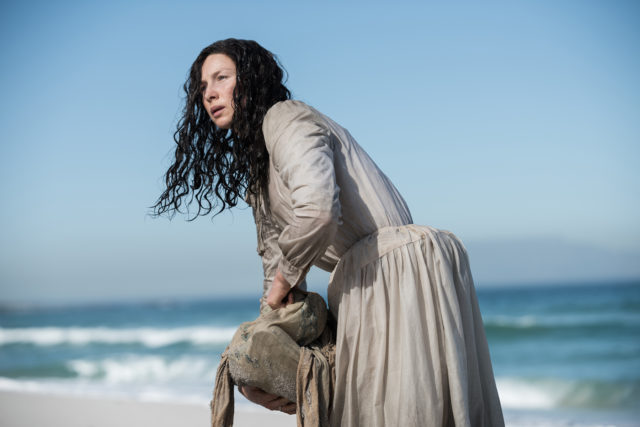 If you're expecting to tune in to Outlander and see the beautiful Scottish Highlands, you'll be waiting years. The show's scenery has just dramatically changed to a much warmer, more mysterious climate. The tales and lore of the Highlands are nothing compared to the dangers in the the 18th century Caribbean. All manner of pirates, superstition, and danger that came with colonization. Claire Fraser has been through a heck of a lot. Washing up on the shores of a Caribbean island? That's new. The only way she and Jamie can survive long-term is to find each other again. Even then, can they get through an entire hemisphere of unknown dangers?
Claire may look young, and she may even be fit enough to take on such an arduous journey. Keep in mind though, Claire is actually around 50 years of age by this point in the story. Without proper food and water, she gets through those first few days on the island through sheer force of will. Fear also has something to do with it, especially in regards to that boa constrictor. How would you like waking up with that on top of you? Eventually, Claire finds help on the island, through the aid of Father Fogden. Claire is very grateful of the aid, though much more wary of a man who takes his advice from a coconut. Fogden is a curious man, but he's not a bad one. He knows what it is like to lose the love of his life, and wouldn't want that for Claire.
He would gladly take Claire to the local port himself, but there's no need. The devoured goat tells Claire everything she needs to know. If a "China man" ate the goat, there's only one ship he could be on. Before Father Fogden can finish the story of Abandawe, a very real legend that Claire and Jamie will pursue in the very near future, she is off like a cheetah. It is a miracle she was able to signal Jamie with that mirror, or maybe it was just fate. After all, what is a love story without a running-into-each-other's-arms-on-the beach reunion?
After so much loss and exhaustion, Jamie decides that everyone needs something hopeful. A wedding would do. After Mr. Willoughby makes peace with Father Fogden for getting his goat (sorry, I had to), the good priest marries Marsali and Fergus, albeit in an nontraditional ceremony. There's one thing Fergus needed more from Jamie than his blessing to marry-his name. Fergus has always been a Fraser. The name just makes it official. And lest anyone think that Jamie and Claire have been frazzled by this experience, that last "turtle soup" scene should cure you of that notion.
All in all, it was a lovely wedding and a lovely island. The next island won't be as pleasant.
Outlander Season 3 Episode 11 Review: "Uncharted"
Summary
Claire finds herself once again an Outlander, but in a vastly different setting, as she tries to reunite with Jamie.