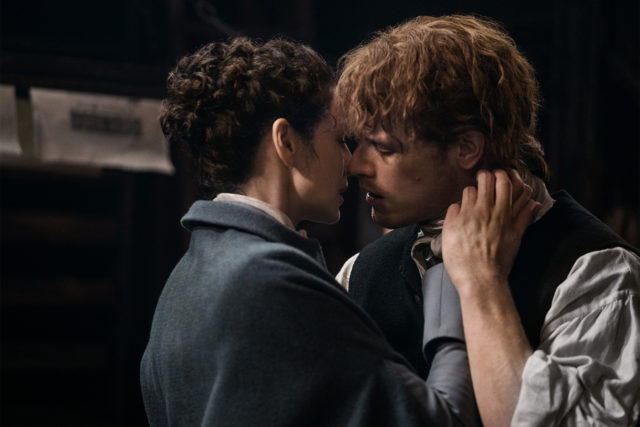 We can now confirm with 100% certainty that Droutlander is officially over! As anticipated as Outlander's third season was, it was nothing compared to the excruciating wait for the pivotal moment when Jamie and Claire finally reunited. With the infamous Print Shop scene, that moment finally happens. If you thought "The Wedding" was emotional, that is nothing compared to the fiery passion and tear-jerking sentimentality that was "A. Malcolm". Be advised, the following episode and recap is not suitable for children, and contains spoilers.
Before picking up where "Fire & Whiskey" left off, we back up about an hour or so to get a peek at what Jamie has been up to since he left the Dunsany's. We already know he became a printer, but that's not all he's been using the shop for. Before we learn more, Claire walks in the door. Their reunion is everything it should be and more. Their careful hesitation around each other, their insecurities about their aging, that beautiful 'first' kiss, and Jamie's introduction to his daughter. Jamie is entranced by the clear pictures of Brianna, and works up the nerve to tell Claire about his own son. They both agree that they have lived other lives, but it is heartbreaking to hear Jamie question if Claire is staying.
What isn't heartbreaking is Claire's reunion with her surrogate son. The look on Fergus's face when he sees the woman he thought of as a mother once again, is simply too emotional for words. From this point on we get hints about Jamie's life now. This includes a certain situation fans of the book series know Claire is not going to be happy with. She can take a lot of the strange changes in Jamie's life, but there will be blowback from at least one secret he is hiding. It makes his hidden life as a liquor smuggler rather tame. We're introduced to some new faces, namely Mr. Willoughby, Geordie, and Madame Jeanne, who runs the brothel Jamie rents a room at. Despite the environment, the electricity between Jamie and Claire in that room is extremely tangible. That is something that time hasn't taken away from them.
Everything that follows is not something to be viewed in mixed company. Jamie and Claire's re-consummation was equal parts passionate and overwhelming, with just a hint of humor and a dash of modesty. To think that these two could ever be modest around each other seems silly, but it comes from nerves over their time apart, as well as their aging. The only thing that truly matters is that neither one of them every loved anyone else.
Once Jamie and Claire step out of their love bubble, the real world intrudes. Claire has to start spinning her lie about where she's been while catching up with how Scotland has, and hasn't, changed. She retells her story when she meets her new nephew Ian, who no doubt will have plenty more to say on the subject once it sinks in. Then there is that cliffhanger of dread: who exactly was that dangerous man who came looking for Jamie? We'll find out when we return to 1768 next week.
Was the infamous Print Shop episode everything it was hyped up to be?
Outlander Season 3 Episode 6 Review: "A. Malcolm"
Summary
Jamie and Claire finally, and passionately, reunite after 20 years apart on Outlander.