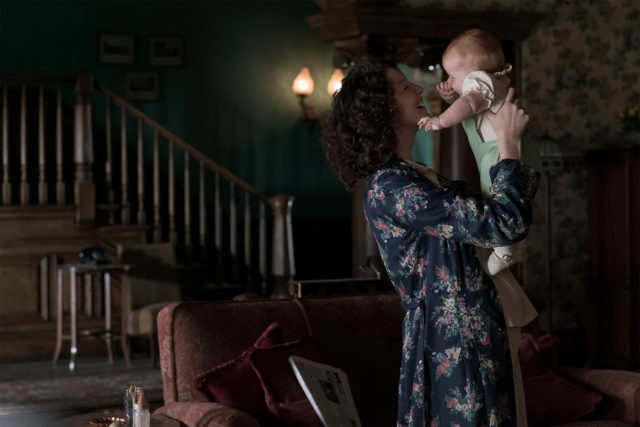 Life is for the living, but for the Frasers, the question is how? By now you know that Jamie Fraser survived the opening hour of Outlander's third season. "Surrender" is an appropriate title for the second episode of season 3. Claire survived her journey back to the 21st century and the birth of her child Brianna, and miraculously, Jamie survived the Battle of Culloden. As difficult and impossible as both of those events were, they are not nearly as difficult as the task of actually living. For how do you live without the love of your life? How do you explain to the world why you live like a ghost, because with a ghost is where your heart is? It's not just about putting one foot in front of the other. It's about making the conscious decision to live, with a little kick in the pants from the people who care about you.
In the 20th century, the only way Claire can feel alive is by picturing Jamie in her, shall we say, sleeping hours. Not that she and Frank aren't busy in that marital way, but it is not the same. There's just not a great level of intimacy between them, the type of intimacy that is poured into a gentle touch or a look across the table. They try, but Claire can't even open her eyes when she's with Frank. The rest of the time she is devoted to infant Brianna, but it still isn't enough. Claire was not made to be a housewife. She was a talented nurse and healer, so why shouldn't she push more boundaries? That's who Claire has always been-a trailblazer who never takes no for an answer. Luckily on her first day of medical school, Claire meets Joe, the only black man in the class. Therefore, he's the the only other person who knows what it feels like to fight for your right to be somewhere when others would literally spit on you for it.
In the 18th century, Jamie is faring far worse than Claire. Though he may have been set free by one redcoat, it was quickly surmised by the rest that Red Jamie did indeed survive the rebellion. Six years later, his family is still paying the price for his freedom. Ian is carted off to the garrison for the umpteenth time to see if his memory can be jogged about the whereabouts of the 'Donbonnet'. You can tell by Jamie's appearance why he has been given this appropriate moniker. Jamie barely speaks, and barely interacts with his family. Neither Fergus, nor Jenny, nor the birth of Jenny's next child can get through to Jamie to rejoin the living. Ironic, since Fergus, Robbie, and Ian's foolish choice to shoot a pistol over superstition is nearly the end of the entire Fraser family. Worse yet, Fergus's mouthing off quite literally costs him his hand. Jamie's quick thinking saves Fergus's life, and it is the thought that he could have lost his adoptive son that finally breaks through Jamie's barriers. Claire and Brianna are gone, but Fergus is still there. Jamie still has a family to fight for.
That leaves him with a difficult decision. He cannot keep exposing his family to violence and fear. He and Jenny devise a plan to end the cycle once and for all, by turning Jamie over to the redcoats so the Frasers can be in the clear and get the reward money. After one night of renewing his manhood and his intimacy with the maid, Jamie turns himself in. Jenny puts on quite a performance, but the hurt in her eyes is so unbelievably difficult to witness. Jenny would have sooner died than turn Jamie over, were it not for Jamie's stubborn persistence and her love for her own children. Difficult days lay ahead, but there's a lot more story to tell until that fateful day in 1765.
Can you stand the painful separation a little while longer until Claire and Jamie are reunited?
Outlander Season 3 Episode 2 Review: "Surrender"
Summary
Outlander begins the story of how Claire and Jamie cope with life without each other in "Surrender".