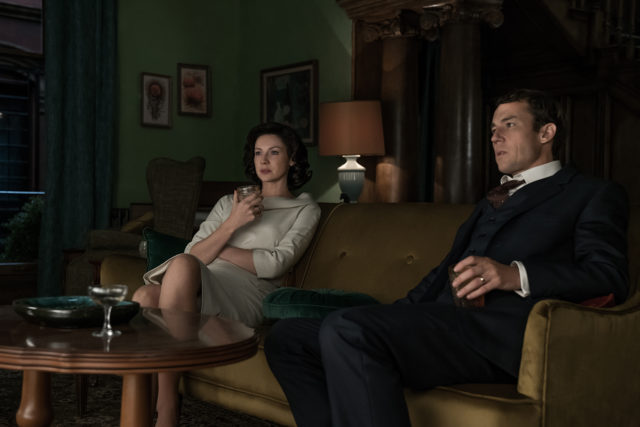 The notion that if you don't speak of the thing which pains you, it won't hurt as badly, is a blatant lie. No one knows this better than Claire and Jamie Fraser. Outlander is now moving more quickly through the star-crossed lovers's years apart. As time rolls by, they both move past the point of just surviving by being proactive with their lives. Claire finds satisfaction in her accomplishments, but the Randall's marriage is anything but an achievement. Meanwhile, Jamie finds his mission in helping his remaining clansmen–one very special fan-favorite in particular. Purpose to live becomes reason to want to live, and the culmination of twenty years of lost love slowly being bridged.
Catching up with Jamie's story means finally meeting one of the most pivotal people in his life–Lord John Grey. A few years after Jamie's arrest, he is still locked up in prison. Instead of facing execution, Jamie acts as a leader within the prison system for his fellow highlanders. Though he is the only prisoner chained, he has earned the highest respect from the British officers, if only out of fear of 'Red Jamie'. Anyone worried about how Jamie would survive such a desolate life should remember that Jamie is a man who lives to love and protect others. After Claire's departure that honor fell to Fergus, and now in prison it goes to none other than Murtaugh! Though illness has aged him, Murtaugh is a sight for sore eyes. While we're still recovering from the joy of seeing a familiar face, we welcome a new one when Lord John Grey takes over the prison. Almost immediately Jamie recognizes Grey, not just his face, but something in the way he carries himself. Lord Grey learns quickly that he knows nothing at all of how the prison system works. He needs James Fraser. The perfect opportunity presents itself when Grey needs a translator, and boy does the informant have something to tell. A conversation about the Frenchman's cursed gold and the Mackenzies is all well and interesting to Grey, but Jamie stands at attention when talk turns to the White Witch. Jamie's sharp recognition, and then later Murtaugh's pure joy remembering his friend, is nothing short of exhilarating. That is a feat indeed to have such a beautiful moment in hell on Earth.
Despite the hospitality Grey shows Jamie in a way no other officer would, and Jamie's loyalty to his clansmen, Jamie escapes…to return to die. Jamie never forgot Lord John Grey's promise to pay back his debt, all of his debt. Jamie is honorable and masochistic forcing Grey to keep his word to kill him, but Grey is honorable too. The two form a friendship, for lack of a better term. It is with Grey that Jamie speaks Claire's name for the first time in years. Grey even reciprocates by confiding to Jamie that he lost someone special at Culloden. But Grey's friendship takes a turn for just a second, one that Jamie is too familiar with and will not risk again. This needs to be understood: John Grey is nothing like Jack Randall. Grey proves himself as a kind man by reassigning Jamie to Helwater instead of sending him across the Atlantic. It's almost as if you can see that Grey needs a true friend, and true friendship starts with kindness and understanding. After all, this is only the beginning of their story.
While Jamie's story was very consolidated this week, Claire's fast-forwarded through key moments of her marriage to Frank during Brianna's childhood. Despite all the promises Claire and Frank made to each other, a check-in of their marriage over the years shows just how easily their relationship disintegrated. Not wanting to punish Frank for her not being able to let Jamie go, Claire agreed to an open marriage. So long as Frank's affairs didn't interfere in their life or touch Brianna, Claire would ask no questions. For awhile it works out since they are able to raise Brianna, Claire finishes medical school, and Frank gets to go about his business. But the small cracks turn into fissures when Frank invites his girlfriend over too early, so that her arrival coincides with a cocktail celebration for Claire's medical school class. In any other story Frank would be the bad guy. Admittedly he was pretty tactless in this moment. However, the pain that Frank feels knowing where Claire's heart is, and the fear in his voice at the thought of losing his daughter if he and Claire were to divorce, is too honest. Frank is not a bad man for wanting to love and be loved.
This is all before Brianna is even a teenager. Once Brianna has graduated, Frank sees no reason to stay in the marriage. It's no wonder, because before Frank even brings up the conversation, he looks to his wife to share a look. That look which parents share with each other when their child does something amazing. Frank looks to Claire, and only sees the pride she has in Jamie's daughter. Claire would give Frank what he wanted, if he didn't ask to take Brianna with him back to England. The resulting argument ends in nothing but cruelty on both sides, and there's no taking them back. Frank dies in a car accident shortly thereafter.
You tell me audience: whose life has taken a darker turn, Jamie or Claire?
Outlander Season 3 Episode 3 Review: "All Debts Paid"
Summary
Outlander bids goodbye to a doomed character, says hello to an old friend, and introduces one of the most pivotal characters in the series.