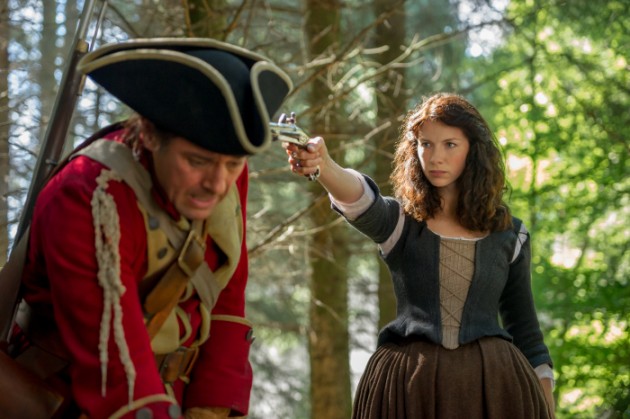 Usually, when dealing with prestige dramas like Outlander, things move at an unhurried pace. It's a "slow burn" style of storytelling, one that allows writers and actors and the like to get into the nooks and crannies of character and plot. Oftentimes, it reveals surprising and moving things about the show, and enhances the drama.
Very rarely do you see the kind of plot movement that Outlander had last night. Though the time frame wasn't established concretely, it seemed to pass over a series of months. I was skeptical of this movement for the first half of the episode. There seemed to be a lot of character moments that were potentially lost in the shuffle. But I realized, to quote Andy Greenwald, that they hadn't "yadda-yadda'd" the good stuff, but the boring bits. A lot of this hour as an extended montage, but it worked. It was almost nice to be above the story, watching as Murtagh and Claire sang and danced, and then dropped us in for some really great moments, like the revelation of Murtagh being Jamie's mother's secret admirer, or for Dougal's power play. It was a relief to be above all of the muck and horror that Claire has had to wade through; though I don't think that I'd want to do this often, I welcomed the break. As I said in my last review, I was worn-out by the constant danger that Claire was in, and this was a nice respite.
You could almost split this episode in two: Claire/Jenny, and Claire/Murtagh. Honestly, I have a hard time believing that they are even a part of the same episode. So much occurred in the second half of the hour, that it feels like the Jenny part happened a long time ago. But that section was also great; though I enjoyed the bonding of the women over Jenny giving birth, I thought bringing them together in this way was both more entertaining and more meaningful.
What was so crazy about the Claire/Jenny stuff was how strange it felt. I first approached it from the perspective of them intentionally subverting the typical (and therefore male) hero narrative; wherein many stories Ian would've found the strength amidst his injuries to ride out to save Jamie, he was totally turned into a supporting role. Instead, it was Claire and Jenny who saddled up the horses and went after Jamie. It was Jenny who tracked the redcoats, and it was the two of them who caught the courier and got the information from him. As revolutionary as it felt, I came to the realization that it really wasn't; two women, one who was a combat nurse and experienced in the outdoors and one who had lived through the times and learned in a unforgiving environment, should be more than capable of tracking and taking down these soldiers. If they had plunked Jamie and Ian in those spots, we never would've batted an eye.
We live in an interesting time. Things are growing more and more socially progressive, but we're still lagging far behind where we should be. Feminist perspective is becoming more and more popular, and yet we are still praising people for treating women like equals when it comes to FICTIONAL storytelling. I mean, Christ; once upon a time, we looked at Joss Whedon as some sort of superior being because he had the nerve to put a teenage girl at the forefront of one of his shows.
This episode of Outlander was also a huge improvement over the last. It was just more entertaining, and varied, and emotional; part of the reason that Claire is safe with Murtagh is because he sees her as almost his own daughter-in-law. There's real and moving character work being done, and if you know anything about making good fiction, then you know that character work is the most important part.
At the end of this episode, we see five horses, and five riders upon them. Last episode started to turn me against Outlander; this episode made me want to follow those five wherever they go.
Stray Thoughts
– The breast milk scene was truly revolutionary, and that's also sad.
– Jenny is rapidly becoming my favorite character.
– Dougal is making a power play, and it's kind of brilliant.
– I am 100% tired of voice-overs. Please, please no more voice-overs.
[Photo via Starz]