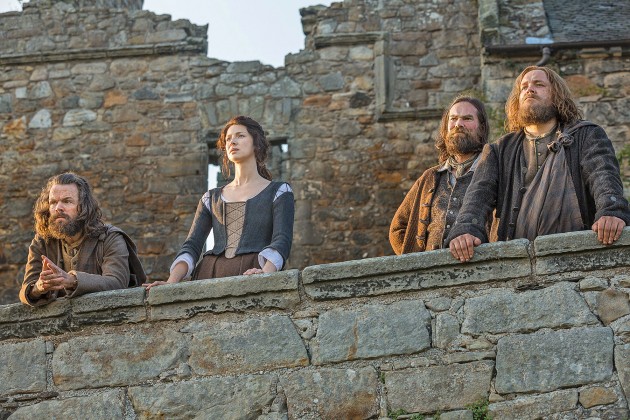 The first half of this first season of Outlander drew me in like nothing else. It reminded me of the best Game Of Thrones episodes, in which it combined this gripping character drama with meaningful themes and high fantasy undertones. I'm not going to call it perfect, but it's about as close as you are ever going to get when making television.
This second half, by contrast, hasn't been as good. It's been really interesting, and fascinating, and revealing, but this last eight didn't live up to the first eight. This half season was drowning in plot; we spent an episode that included a montage that jumped things forward several months, for example, and this season finale was no different. This finale was too ambitious, too insistent on setting up the next season. The first eight episodes of this season were able to provide such a strong character drama because they left so much plot for the second half. The slowish burn that I was accustomed to suddenly turned into the Mission: Impossible opening credits fuse.
I wish they just hadn't stuffed this episode so full. We started with Jamie's rescue, and ended with him and Claire on a boat to France. We went through the entirety of Jamie's psychological damage, the rescue attempt, Claire's unburdening and subsequent revitalization, Murtagh finding a ship (only two or three short scenes from when he mentioned looking for a ship), and so much more. We get to the monastery, which felt like it played an important role in the books but was relegated to a section in the last episode. I don't want to keep naming things, but I really wish Outlander had grabbed a few threads instead of sticking its hands in the ball of twine itself.
That plot movement overshadowed all that was good in this episode, and that sucks. The way that the writers have dealt with rape this season has been nothing more than sensational, and they have used it not as a way to move plot or shock-and-gore us, but as a way to explore the concept of the act itself. We see it for what it is: the physical damage, and the psychological aftershocks that linger long after. Sexual violence is so heinous and staring-up-from-the-pits-of-Hell evil, that it almost defies comprehension. Humans are layers of motivations, from the conscious to the subconscious, and sexual violence strips away all of it to the animal that we once were. Rape and its ilk are unforgivable, unpardonable, unimaginable crimes.
The thing about Outlander and its portrayal of rape is that the people who suffer it are not portrayed as victims, but survivors. Jamie was never a victim; he was the guy who lived to see another day, or minute, or millisecond. Rape victims are not forever hurt, or broken, or afraid. They were thrown into a war they had no part in starting, and they lived to tell the tale. Outlander could've done a better job with this episode, and perhaps should've spent the entire episode on Jamie and his psychological trauma alone. But the writers' handling of sexual violence makes it worth watching.
I am looking forward to next season. I hope you all are too.
[Photo via Starz]