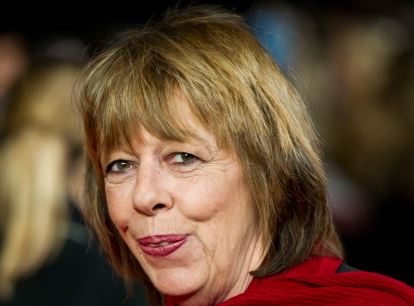 Well, look at this bit of "magical" casting for Outlander. Harry Potter actress Frances de la Tour has signed on to play Mother Hildergarde in the second season of the Starz drama, another important role in Diana Gabaldon's second novel, Dragonfly in Amber, the book on which Season 2 of Outlander will be based.
In the novel, Mother Hildegarde is the commanding Mother Superior of Paris' L'Hopital des Anges, a hospital at which Claire spends a a large amount of her time at in Dragonfly in Amber. Therefore, we should definitely expect de la Tour and Caitriona Balfe to share quite a few scenes together.
In addition to her role as Madame Maxime, the headmistress of Beauxbatons Academy and love interest for Hagrid, in the Harry Potter films, de la Tour is also a Tony Award-winning actress, whose other film roles include Into the Woods and Tim Burton's live-action Alice in Wonderland. On the TV side of things, she's appeared in the ITV series Vicious and the BBC One comedy Big School.
As Mother Hildegarde, de la Tour joins an Outlander Season 2 cast that already features many new members. Those new and notable names include include Borgia's Stanley Weber (as Le Comte St. Germain), Hatfields & McCoys' Robert Cavanah (as Jamie's Jacobite cousin, Jared Fraser), Alien: Resurrection's Dominique Piñon (as Master Raymond), Homefront's Rosie Day (as Mary Hawkins), French actress Margaux Chatelier (as Jamie's former love, Annalise de Marillac), Borgia's Marc Duret (as Monsieur Joseph Duverney), and The Bill's Laurence Dobiesz (as Black Jack's brother, Alex Randall).
Outlander Season 2 begins with Claire and Jamie's arrival in France after the horrific events that occurred at the end of Season 1. Production on the Starz drama's second season is currently underway, and it is slated for a 2016 debut.
Frances De La Tour is intelligent and commanding, which is why she'll make a great Mother Hildegarde! #Outlander pic.twitter.com/2J9ZPeHflw

– Outlander (@Outlander_Starz) June 30, 2015
Photo by Mark Cuthbert/UK Press via Getty Images