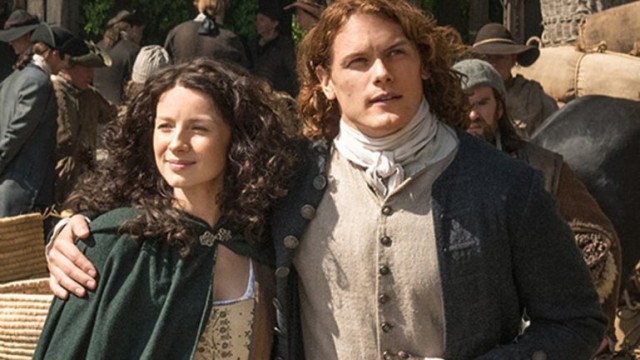 We've known for a while now that Outlander Season 2 would be kicking off this spring, but today, Starz announced an official premiere date for the new season of the time-traveling historical drama. Season 2 will begin on Saturday, April 9, at 9 p.m. on Starz.
In addition to the premiere date, Starz has also released a brand new poster for Outlander Season 2. The image features Claire and Jamie together, hand in hand, along with a  new Season 2 tagline: "Vive Les Frasers," or "Long live the Frasers."
Outlander's second season will feature many new faces, including So Awkward's Sophie Skelton as Brianna, Harry Potter's Frances de la Tour as Mother Hildegarde, Borgia's Stanley Weber as Le Comte St. Germain, Hatfields & McCoys' Robert Cavanah as Jamie's Jacobite cousin, Jared Fraser. Other new cast members are Alien: Resurrection's Dominique Piñon as Master Raymond, Homefront's Rosie Day as Mary Hawkins, French actress Margaux Chatelier as Jamie's former love, Annalise de Marillac, Borgia's Marc Duret as Monsieur Joseph Duverney, and The Bill's Laurence Dobiesz as Black Jack's brother, Alex Randall.
Outlander Season 2 begins with Claire and Jamie's arrival in France after the horrific events that occurred at the end of Season 1. As mentioned above, the new season kicks off on Saturday, April 9, at 9 p.m. on Starz. Check out the new poster for Outlander below: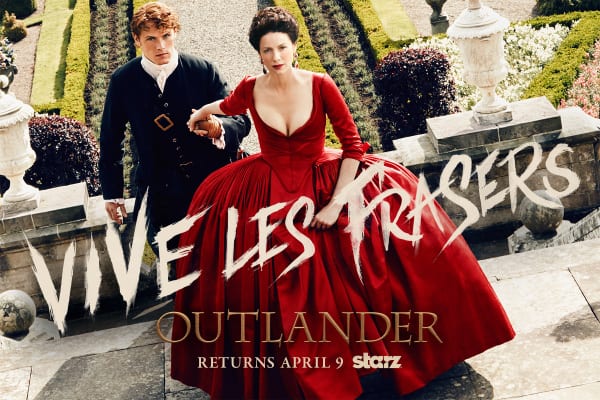 [Photo via Starz]