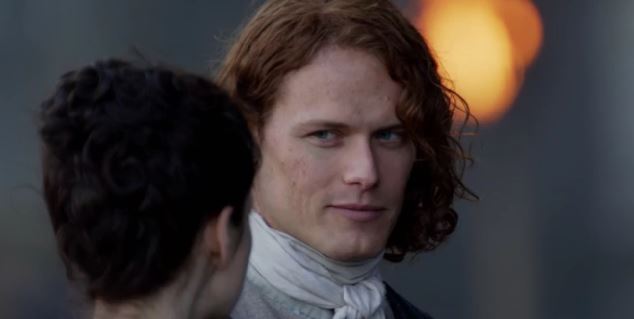 It feels like it's been forever since Claire and Jamie Fraser sailed off to France together in Outlander's first season finale, but now we finally have our first look at what awaits the couple as they attempt to change the past together in the first teaser trailer for Outlander Season 2.
The video, which you can watch below, is a true teaser trailer. It hints at what's to come in the new season of Outlander without giving away too much for fans who haven't read Diana Gabaldon's novels, providing enough intriguing shots and lines of dialogues to keep all fans satisfied.
So what do we know from the Outlander Season 2 teaser trailer? Well, the 45-second video emphasizes Claire and Jamie's mission to change events in the past in order to "save their future," and it's quite apparent that the decision is taking its toll on them, particularly on Jamie who makes it clear that he doesn't like having to lie to people. Additionally, there's also scenes of a pregnant Claire, Jamie in another sword fight (where he appears to be holding two blades), and a plethora of new costumes and locales that will be seen this season.
And of course, there's still the same Outlander charm and humor that fans know and love, as the teaser closes with Claire asking Jamie if he think they'll have changed things. "You tell me, Sasanach," he responds with a smile. "You're the one from the future."
Outlander Season 2 premieres this spring on Starz. Check out the teaser trailer for the new season below:
Behold the #Outlander Season 2 Teaser – the first of many #OutlanderOfferings coming this month. 'Tis the season! https://t.co/Ly2LksDW8c

– Outlander (@Outlander_Starz) December 1, 2015
[Photo via Starz]