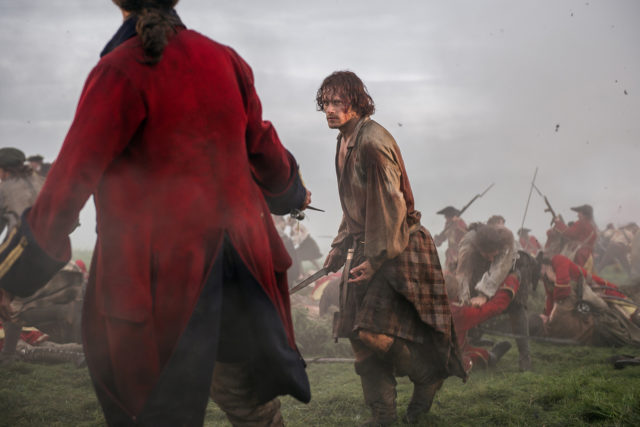 Say it with me: Droughtlander is over! And boy, did the show's third season open with a bang. "The Battle Joined" was one of the most heartbreaking, devastating hours of television ever produced, and this is coming from a writer who's had two months to recover from the initial tragedy when it was previewed at San Diego Comic Con. Season 3 of Outlander takes a different leap forward in time, chronicling the next 20 years of star-crossed spouses Claire and Jamie Fraser until such time (spoiler alert) that they can reunite once more. However, 20 years is a long time to live without the love of your life. The season premiere covered the initial shock for Jamie in 1746 and Claire in 1948. That separation of time and space alone was difficult to watch, but if the first half hour didn't have you rooted in place completely devastated, you haven't been paying attention to the power of this show.
The first 20 minutes or so of the third season premiere was devoted to event fans have been dreading for two seasons-the Battle of Culloden. Any native Scot will tell you that this is remembered as one of, if not the most, tragic moment in Scottish history. It's the day that is remembered as the beginning of the decimation of Scotland's way of life, with the brutal dismemberment of the clans and Scottish way of life. The only solace Jamie found in his impending death and his separation from Claire is that he would have his revenge on Black Jack Randall, and he would not live to see his country destroyed. He goes into the battle every bit the definition of a warrior. With courage, strength, and stalwart devotion to his countrymen, Jamie goes into what he believes are the last moments of his life.
Watching the actual battle was one of the most difficult things I've ever forced myself to watch. I have to applaud Ronald D. Moore and his entire team for this, because while it was a great production feat, it was also a tribute to all of the men who lost their lives on that battlefield. It's a heck of a tribute 271 years after the fact. The cherry on top was the cinematic masterpiece of Jamie and Jack's last stance, a fight which perfectly blended the carnage of the environment, the hatred between these two characters, and the poetry of the culmination of their experiences together. It was supposed to end exactly this way.
Watching Claire Randall Fraser's devastation in the 20th century is a different kind of heartbreaking. In the seven months that followed Claire returning to the life she had with her first husband Frank, Claire's hardened facade slowly cracked, bit by bit. It took Frank's boiling frustration to hit the right chip at the wrong time in Claire's armor in order to bring about a screaming match unlike any the couple had had in their marriage. You couldn't even blame Frank. He is the complete antithesis to his ancestor Black Jack, asking no more of Claire than to meet him halfway. The problem is that this Claire is not same woman who passed through the stones three years prior. You can see that in the way she assimilates to the role of a post-WWII housewife, shutting down her opinions not only out of respect for Frank's position, but also as another way to fortify her shield. The only thing it builds is her frustration and anguish.
So how does Jamie survive the battle he should have perished in? Why does he not die with the rest of his clan? Call it luck, call it God's will, call it the universe giving a destined couple a second chance. James Malcolm MacKenzie Fraser does not die in the Battle of Culloden, thanks to Rupert retrieving his delirious friend. While Jamie was very insistent about staying put with Claire's ghost (how gorgeous was Caitriona Balfe walking through the battlefield!), Rupert matches him in the stubborn department. Eventually they are found by the English, but Jamie does not die with his fellow "traitors" either, thanks to the mercy of the very man leading the executions. The soldier is in fact the brother of Lord John Grey, a pivotal character in the Outlander book series. Introduced to audiences as a young man whose life is spared by Jamie, John Grey feels that he in turn owes Jamie the same courtesy. A life for a life, however begrudgingly, spares Jamie, and gets him home to his sister and brother-in-law at Lallybroch. Tragically, Rupert is not spared, and this is the only time that Jamie allows himself to shed a tear.
Jump forward once more to 1948, and Frank is lamenting over how to live a life with a woman who loves a ghost. We see the moment that Frank decides he must know more about Claire's other husband, a letter their daughter will find two decades later. Then everything falls into perspective for the couple when little Brianna Randall is born, striking red hair and all. I'd imagine more people than the Labor & Delivery nurse will have questions about that mane.
If I could give Outlander's season premiere 10 stars I would. Let's hear from you. What was the most powerful moment of Season 3's opening hour?
Outlander Season 3 Episode 1 Review: "The Battle Joined"
Summary
Jamie and Claire's 20-year separation begins with Outlander's most heartbreaking episode, the third season premiere.