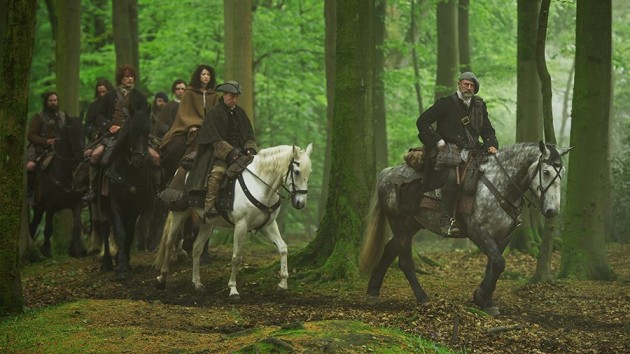 We've seen Claire as a healer, but how about Claire as a fighter?
That's the focus of this new clip from Saturday's midseason finale of Outlander. While Claire has held her own against men in the past (getting away from the clutches of Black Jack in the series premiere and knocking out Dougal a few episodes after that when he tried to drunkenly make advances on her), the video below shows Angus teaching the new Mrs. Fraser more proper and practical ways of how to fight by using a knife, and as you could have probably guessed, it's pretty entertaining, especially the comments that Rupert makes throughout the whole lesson.
Now, the main question I have is why are the clansmen teaching Claire how to fight? Did she ask to learn? Have they encountered some sort of trouble while on the road? (The first clip released from the episode would seem to indicate that some serious drama will be going on during the midseason finale.) Or did they just decide to give Claire a knife lesson because they thought it would be fun?
We'll obviously know more when the clip is put into the context during this Saturday's episode, which will hopefully be as strong as the rest of Outlander's fantastic freshman season has been. Fans of the series will especially be clamoring for something that is truly stunning, since this will be the final Outlander episode of 2014 and the last we will get for about six months, as it was announced yesterday that the series won't return for the remaining eight episodes of its first season until April 4, 2015.
Watch the clip below and make sure to tune in for the midseason finale of Outlander tomorrow night at 9 p.m. on Starz.
[youtube http://www.youtube.com/watch?v=2ix6e4auohU]
Photo via Starz