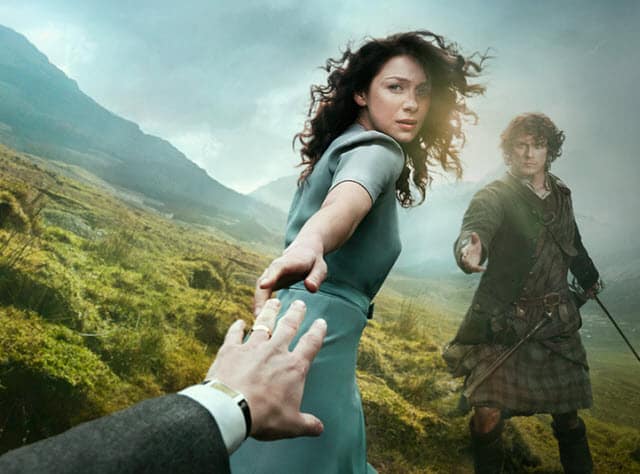 Over the weekend, on Saturday night, Starz debuted its new time-traveling, fantasy romance series Outlander to record ratings. The show was watched by 2.3 million viewers throughout its premiere weekend, in addition to the 1.4 million viewers who checked out the series premiere as a part of Starz's early "free sampling campaign" via On Demand and online. Therefore, Outlander's total audience for its first episode was 3.7 million viewers, the largest audience (across multiple platforms) in Starz's history and one of the reasons why I believe that this series could be Starz's version of Game of Thrones.
Now, when I say that Outlander could be Game of Thrones for Starz, I don't necessarily mean that two series are identical in their subject matter or tones. Game of Thrones is much more fantastical, while Outlander uses fantasy/sci-fi means to transport its heroine into a historical drama, and there are several other differences that fans could point out.
However, the two series do find common ground in some important ways. Both Game of Thrones and Outlander feature strong female characters and deal with issues of displacement and identity, and they also offer luscious, gorgeous, and, at times, breathtaking landscapes (Game of Thrones' production spans numerous countries throughout the world, while Outlander is filmed on location in Scotland).
In addition to these similarities, Outlander, on its own, possesses a very intriguing and compelling concept. The series' heroine, Claire (Caitriona Balfe), must somehow survive and adjust to life in an entirely different culture and time, without any feasible means of escaping or returning back to her husband in 1945. Although it doesn't hold the exact same intrigue that the seven kingdoms in Westeros do, the 18th Scottish setting that Claire resides in is still full of interesting avenues to explore.
Plus, the audience that watched Outlander over its premiere weekend was essentially split down the middle between men and women. 51 percent of viewers were  female, and 45 percent of viewers were male (4 percent remained unidentified). Despite the fact that the Outlander novels (which the show is based on) are more popular with women, it appears that the television series has a much broader appeal.
Ultimately, I might be entirely off with this prediction (Outlander has only aired one episode), but I'm really hoping that I'm right. Starz is a network that is capable of producing some very impressive television (see Spartacus), but I'm not sure if one could say that the network has never had a true hit series. Outlander could potentially be that show for Starz. We just have to wait and see.
Photo via Starz