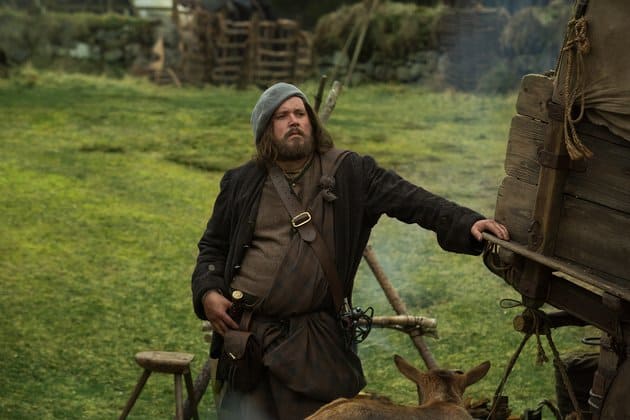 For two years we have been stunned by the outstanding performances of Outlander leads Sam Heughan, Caitriona Balfe, and Tobias Menzies. After all, it is very difficult to compete with the chemistry these three actors have with each other, covering four characters and 200 years of story between them. Over the years there have also been outstanding performances from the supporting characters of the series, sometimes in times of crisis, mostly at the hour of their death. While many will praise the final moments Menzies played as Black Jack Randall on the battlefield of Culloden (and rightfully so), there is another man who deserves all the praise in the world for his final appearance, in what has largely been an underrated and underappreciated role.
I was lucky enough to preview Outlander's season premiere twice before its official debut. The entire opening hour of the third season was heartbreaking, and pushed all of the obvious emotional buttons. One thing that struck me unexpectedly hard was the final performance of Grant O'Rourke as Rupert MacKenzie. For more than two years O'Rourke has turned out hilarious and heartfelt performances, often beside his regular series scene partner Stephen Walters (Angus Mhor). He's also shown the compassionate, soulful, warrior nature of a true Scotsman and beloved character. O'Rourke's acting took a turn late in Season 2 with the death of Walters' character Angus. From that point on, Rupert MacKenzie took on a more subdued nature. This was not only because he was in deep mourning for the loss of his friend, but it was as if Rupert was absorbing the quickly diminishing hope for a Scottish victory at the Battle of Culloden with prescient precision.
Everyone's performances in "The Battle Joined" were amazing, and you could tell the emotional exhaustion that went into putting the premiere together. Yet it was O'Rourke's performances which were unexpectedly striking. As Rupert plucked Jamie from the battlefield on a mission to save as many Jacobite survivors as he could, he stayed steadfast in his mission to the end. Loyalty to his men, to God and country peeled back a final layer of depth to Rupert MacKenzie never seen before. In what he knew would be his last day on this Earth, Rupert focused his energy on being strong for his countrymen as one-by-one, they were executed. Rupert was never a leader, but he stepped up as someone to follow in the darkest hour of need. He made peace with Jamie over Dougal's death with wry humor and pure honesty, before marching off to his own death with his head held high and a joke about setting a quick pace to meet his maker.
Rupert MacKenzie died the way he lived-with humor, pride, and an underlying grace so often overlooked. In that moment the audience was Jamie, so desperately trying to hold in our emotions over the ache and horror of the battle, yet unable to hold in at least one tear for O'Rourke's swan song. We'll always thank God for Rupert MacKenzie, as he saved the hero, thereby setting him on the path to one day be reunited with his true love. But this week, we give thanks also for Grank O'Rourke, and the incredible final performance he gave to one of Outlander's most cherished characters.
Watch the result of Rupert MacKenzie's bravery play out as Claire and James Fraser's story unfolds Sundays on Starz.