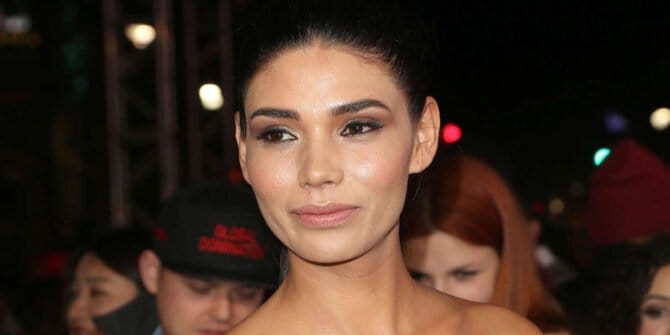 Paloma Jimenez is a name you may not be familiar with, but there's a good chance you've seen her face. You've probably also heard of her very famous boyfriend, Vin Diesel. Paloma is the mother of Vin's three children, and he has also described her as his rock. She often accompanies Vin to award shows and other red carpet events, and she always manages to steal the spotlight. Although her relationship is what has gotten her the most attention in recent years, Paloma is a strong and independent woman who has had her own successful career. As they say, behind every great man is a great woman. Continue reading to learn 10 things you didn't know about Paloma Jimenez.
1. She Was Born In Mexico
Paloma was born and raised in Guerrero, Mexico, but there isn't much information about her family or her upbringing. It's unclear when she relocated to the United States, but she now lives in the Los Angeles area with her family. Paloma is fluent in both English and Spanish.
2. Her First Name Isn't Paloma
In the entertainment industry, it's very common for people to use stage names of some sort. Sometimes these names are completely made up, and other times they're variations of the person's real name. The latter is the case with Paloma. She may be known to the world as Paloma Jimenez, but her full name is actually Karla Paloma Jiménez Denagustin.
3. She's A Very Private Person
When someone is in a relationship with a person in the public eye, it can be difficult for them to avoid constantly being in the spotlight. However, Paloma has done a great job of staying lowkey despite her man's celebrity status. She has never been one to reveal anything about her personal life. This is also true of her partner, Vin Diesel. Even after all of the time he's spent in the entertainment industry, he has never been one to share much about his life outside of work.
4. She's A Model
Long before she was known for dating Vin Diesel, Paloma had a successful modeling career that began in Mexico. We weren't able to find any information on exactly when she started modeling or which brands she's worked with. It's also unclear whether or not she still does any modeling.
5. She Has Been With Vin Diesel For Well Over A Decade
Since Vin and Paloma are both private people, there are a lot of readers out there who probably didn't even know the two were in a relationship. Even if you did know they were an item, you may not have known that they've been together since 2007. They welcomed their first child together the following year.
6. You Won't Catch Her On Social Media
Since Paloma is a model, most people would probably expect her to be on Instagram. After all, just because someone is private doesn't mean they can't use social media for professional purposes. However, Paloma seems to have no interest in being on the internet.
7. She Is More Than 15 Years Younger Than Vin Diesel
Age gap relationships seem to be very common among people in the entertainment industry so lots of people probably won't be surprised by the fact that there's a nearly 17 year age difference between Vin and Paloma. Vin recently turned 54 (in July of 2021) and Paloma is currently 37 (turning 38 in August 2021).
8. She Was In A Popular Mexican Variety Show
Somewhat surprisingly, Paloma doesn't have any acting experience. According to her IMDB page, the only on-screen appearance she's ever made was in an episode of Otro rollo con: Adal Ramones in 2014. The comedy/variety show ran from 1995 to 2007 and aired on Univsion in the United States.
9. It's Unclear How She An Vin Diesel Met
Everybody loves a good story, and it's clear that's exactly what Vin and Paloma have. However, we weren't able to locate any information on how their story began. More than likely, their introduction had something to do with the entertainment industry, but we can't see for certain. Maybe one day they'll decide to be a little more open and share some of the details of their relationship.
10. People Like Her Feet
There are lots of people out there who couldn't care less about what a celebrity's feet look like. However, there are also a surprising number of people out there who are very invested in famous feet. There's even an entire website dedicated to them. Paloma's feet have a four-start rating on the celebrity foot database, Wikifeet. Unfortunately for all of the feet lovers out there, the website currently only has one photo of her feet.