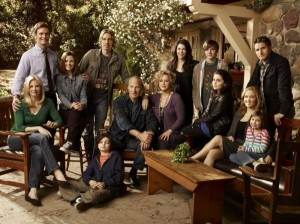 NBC's mid-season family dramedy, Parenthood, has just been renewed for a second season. The show got off to an inauspicious start when original star Maura Tierney had to drop out of the series after the pilot due to a battle with cancer. She was replaced with Lauren Graham, causing the pilot to be re-shot and rewritten to better suit Graham's personality. The show finally premiered after NBC's coverage of the Winter Olympics to positive reviews, and has been a modestly successful hit on Tuesday nights at 10:00pm Eastern/9:00pm Central.
The series concerns the Braverman family, consisting of: Zeek (Craig T. Nelson) and Camille (Bonnie Bedilia), their four adult children Adam (Peter Krause), Sarah (Graham), Julia (Erika Christensen) and Crosby (Dax Shepard), and their respective families. Each of the families has their idiosyncrasies and challenges, including Adam's son's Asperger's Syndrome, and Crosby's discovery that he has a five-year old son.
As someone who has seen every episode of the show, I can assure you that it is well worth watching. The writing absolutely crackles, and feels more natural than any dialogue I currently hear on television. Further, the acting is top-notch, with even the children on the show delivering deep, nuanced performances. The storylines, so far, seem real and not constructed simply for drama's sake. And while there is plenty of drama, a healthy helping of comedy if constantly delivered, leaving a smile on one's face at the end of each episode because one is happy to have spent an hour with the family. It is perhaps best said that it feels like the Bravermans are a real family.
Be sure to return to TVOvermind throughout the spring for more news on pilot pick-ups, cancellations and the Fall schedules.
(Source: TV MoJoe)
Follow: twitter.com/tvovermind
Follow: twitter.com/MikeNJD