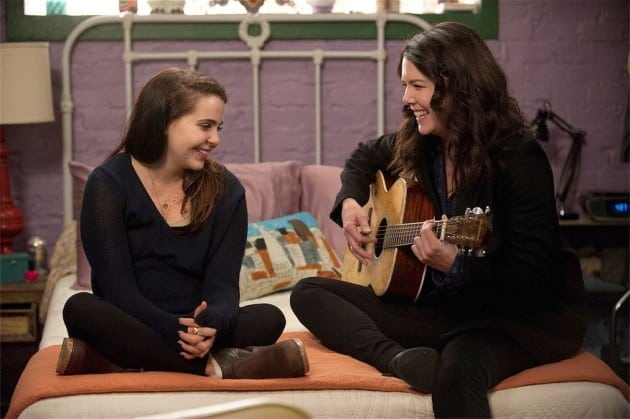 The end of Parenthood is near. Â If last night's episode was any indication, we're surely in for an exhaustingly emotional farewell to the Bravermans as their respective storylines are wrapped up forever.
Zeek made the tough decision to not chance the risky surgery. Â Instead he chooses to live what's left of his life given his deteriorating heart troubles. Â Of course this is all too convenient to drag his inevitable death out to the series finale, but I'm pretty sure I predicted this all along. Â He'll be there to walk Sarah down the aisle at her wedding, then after a commercial break there will probably be a time jump. Â The family could be gathering for another occasion (maybe baby Zeek's first birthday? Christmas?) and we'll learn through context of their conversations that Zeek has already died. Â It'll be a tearjerker revelation for sure, but I do wish they went with the more daring option to kill him off earlier in the season. Â If any cast on television could realistically handle the raw emotions felt immediately after losing a loved one, it would be Parenthood.
Anyway, back to the discussion of "We Made It Through the Night."  Amber finally had her baby boy with only Sarah by her side  and appropriately named him Zeek.  This was all after a false alarm rush to the hospital where everyone in the extended family showed up.  In the waiting room, Kristina started in on Jasmine about meddling in Adam and Crosby's agreement about what to do with the Luncheonette.  That escalated into almost everyone yelling at each other, and ultimately led to Crosby and Adam selling the business again.  My heart still breaks for Crosby in this situation because I know how he's feeling as the younger sibling.  Adam made a comment that he doesn't want to have to take care of his little brother anymore.  As Crosby says to Jasmine, "It doesn't mean anything to me now. What was special about it was me and Adam, and I don't have that now."  Awww.  I don't know how they're going to resolve this relationship between Adam and Crosby, but I really hope Crosby finds success and happiness on his own terms.
Joel and Julia began the episode by sitting Victor and Sydney down to let them know that they're back together. Â Sydney is excited, but Victor's reaction was more mature as he wondered aloud what would happen the next time a problem comes between them. Â That was the first sign their reunion would be smooth sailing ahead. Â As Joel is moving his clothes back into his old drawers that Julia's since taken over, he notices newer undergarments which leads to the broader, more uncomfortable discussion about who has slept in their bed during this separation. Â The fact that Julia continues to work with her ex only adds fuel to the flames here. Â I understand both Joel and Julia's opinions on the matter, and it is certainly an awkward position to be in. Â Hopefully they can reach some sort of understanding where Julia doesn't have to leave her job.
Now that Sarah accepted Hank's proposal last week, they begin talking about their wedding. Â Surprisingly Hank admits he's always kind of wanted a destination wedding. Â Sarah sees one obvious problem with that idea: Zeek's health. Â First she gets Hank to agree on getting married right there in San Francisco, but then she also proposes they get married as soon as next week so that her dad can be there.
So that's where we're left until the series finale! Â How do you hope it all ends?
[Photo via NBC]