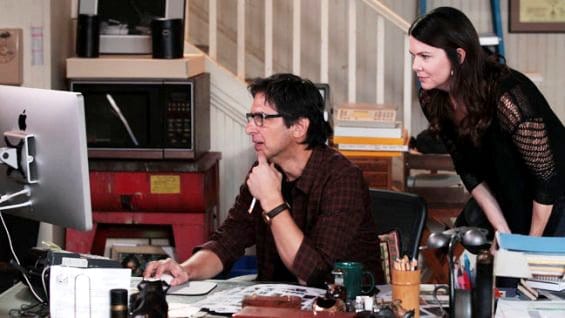 Sarah Braverman may have made a big mistake. After being kissed by her boss and not knowing how to tread with him in the time following, she immediately latches onto her fiance and suggests that they move in together. It's not like her relationship with Mark has ever been poor or that the move comes from a totally unexpected place; they have great chemistry and were just thinking about having a child together at the end of Parenthood's last season. No, her sudden interest in furthering her relationship comes not (purely) from genuine desire to grow closer and begin building their life together. It comes from how freaked out she got from being kissed by Hank, mainly because she liked it more than she wants to admit.
But, rather than admit to her fiance about what happened with Hank or any trepidations she might have about their relationship, Sarah moves herself and Drew into Mark's apartment. Drew will, of course, not be happy with all of this – he hasn't connected with Mark yet and the sudden move, disrupting the beginning of his senior year, won't do much to build any bridges between the two. Will Sarah find a way to bring her son and fiance together, or is this arrangement doomed before it even begins?
Elsewhere on Parenthood, Kristina heads into her surgery on the same day that Max has an important speech for his class president campaign, which will do a number on Adam's nerves, both in terms of the impending results and wanting to be in two places at once. With Haddie heading back to college, there's nobody in his nuclear family able to go and "pinch hit" for him at Max's event, but Adam Braverman is one to want to be all things to all people. He'll find a way to, if not make it to the speech, send a member of the extended family (Amber?) to support Max, or at least make it up to his son when he gets home.
Meanwhile, Joel is concerned about Julia overextending herself trying to be the perfect mother to Victor and Sydney now that she's out of work and Ryan asks Amber out on a date.
Parenthood returns next Tuesday at 10:00 on NBC.
Did Sarah make the right decision in moving in with Mark? How do you think Kristina's surgery will go? Will Max's speech help his campaign?
http://www.youtube.com/watch?v=EmYR2ZksREQ