[FLOWPLAYER=http://www.tvovermind.com/wp-content/uploads/2012/11/ph-408-2.jpg|http://www.tvovermind.com/wp-content/uploads/2012/11/PH4008_Clip2.flv,440,280]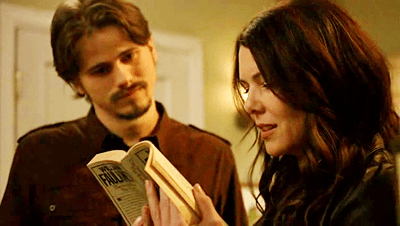 Sarah and Mark may have moved in together recently on Parenthood, but their relationship hasn't been quite right for the entirety of season four. The two, who got back together in the third season finale, continue to struggle with their communication skills and Sarah's straying attention, only they've yet to talk about what's been going on. Rather than confront the Hank Rizzoli-sized rift that has driven them apart, they've opted to bury their head in the sand and act like things are as they once were, leading to the drastic (and underthought) decision to move in together.
And that's starting to show in their interaction with one another, as evidenced by a sneak peek from the next episode. The issue is how to effectively co-parent Drew and neither are comfortable with the idea yet – Sarah's been a single mom for so long that she's not used to having anyone to parent with, while Mark went from being a single guy with a pretty girlfriend to the father of a moody teenage boy pretty much overnight. However, in order to co-parent and provide a healthy atmosphere for Drew, who's continuing to buck after the sudden move, they're going to have to repair the wounds that have already been done to their relationship and grow stronger as a couple.
Meanwhile, Max is having a sleepover with Micah, which looks to be going as well as expected. Max is being demanding and Micah's special needs undo the routine that he's built for himself, making him even more irritable. The two had a fight earlier in the season over Max's obsessiveness and inability to simply be Micah's friend, so you have to wonder how much the latter will be willing to put up with. The boys obviously like one another and have plenty in common, but Micah might soon grow annoyed with Max's behavior, should it show no signs of improving. A sleepover to get Max's mind off Kristina and to allow him the chance to bond with Micah was a good idea; now let's hope it doesn't backfire on both accounts.
Elsewhere on the next episode of Parenthood, Crosby and Jasmine attempt to organize an event for Jabbar's school, Amber takes a road trip with Ryan, and Julia and Joel must find a way to keep both of their children happy in their new arrangement.
Parenthood airs Tuesdays at 10:00 on NBC.
Will having the sleepover with Micah be something to get Max's mind off of Kristina? What do you think the biggest problem in Sarah and Mark's relationship is? Can Drew ever adjust to having a father figure back in his life?
[FLOWPLAYER=http://www.tvovermind.com/wp-content/uploads/2012/11/ph-408-1.jpg|http://www.tvovermind.com/wp-content/uploads/2012/11/PH4008_Clip1.flv,440,280]