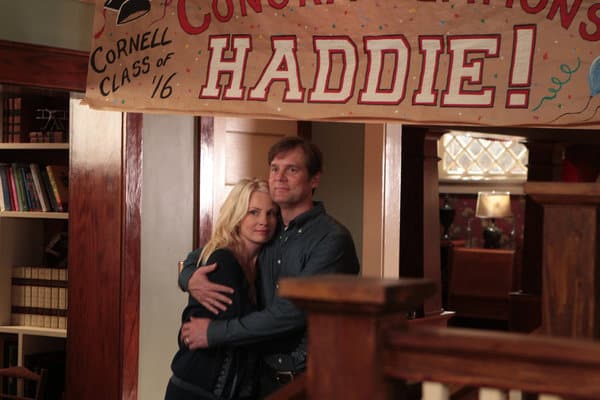 On the last season finale of Parenthood, everybody seemed to get their happy ending. Marriage proposals were thrown about, dream colleges became a reality, partnerships between brothers managed to stay strong, new children were brought into the Braverman family – it was a fairly closed book-type conclusion to the story of America's favorite extended family. But on Parenthood, you can't have a little happy without a little sadness. You can't appreciate the personal work and professional triumph without having gone through the down time, the lull in momentum that could make or break any normal individual.
The fourth season premiere of the NBC dramedy, whose official description is below, looks to be taking the Braverman family down from the high they ended last season on and really delve into whether what happened to them was happy after all.
Tuesday, September 11th – "Family Portrait"
The Braverman family gathers for a family portrait before Haddie (Sarah Ramos) departs for college, while Kristina (Monica Potter), Adam (Peter Krause) and Max (Max Burkholder) have a hard time digesting the new change. Meanwhile, Julia (Erika Christensen) and Joel (Sam Jaeger) struggle to adjust to their newly adopted son's behavior and worry about their family's future. Newlyweds Jasmine (Joy Bryant) and Crosby (Dax Shepard) disagree on the spiritual beliefs they should teach Jabbar (Tyree Brown). Mark (Guest Star Jason Ritter) proves his commitment to Sarah (Lauren Graham) by altering a Braverman tradition, while she attempts to prove her worth as an assistant to photographer Hank Rizzoli (Guest Star Ray Romano). Also, Amber (Mae Whitman) navigates a new job at The Luncheonette.
The fourth season of Parenthood premieres Tuesday, September 11th at 10:00 on NBC. You can check out additional spoilers for the season here, as well as the TVOvermind Parenthood discussion forum here.
Will you be watching Parenthood this season? How do you thing Joel and Julia will adjust to bringing another child into their household? Can Kristina, Adam, and Max manage to keep some sense of normalcy without Haddie?