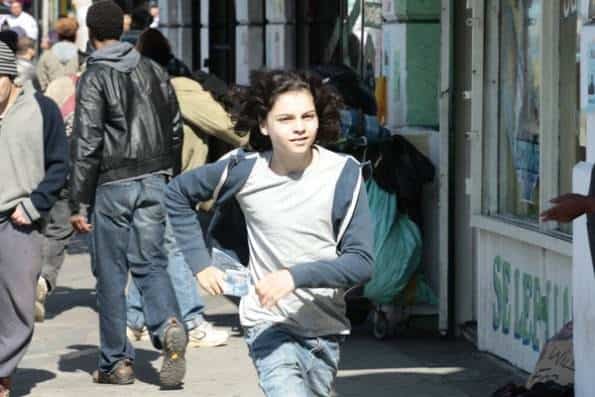 Even though "Missing" is only Parenthood's midseason finale, there was a distinct feeling of finality about the episode, as if this is the point when everything and everybody turns a corner. Season three of Parenthood has been predicated on the concept of new beginnings, so it makes sense to continue each character's quest for self-discovery.
And continue they did, as storyline after storyline was closed in last night's episode, to varying degrees of success. Of those that were finished in "Missing", the most successful was Crosby and Jasmine, whose one night together in last week's episode opened up some serious emotional wounds from last season. I noted in my last review that I was cautiously optimistic about the two's continually complicated co-parenting, but their storyline in "Missing" felt real, messy, and raw, the type of material that Parenthood excels at. Crosby finally understands that it's over between them and you know what? That's okay, because they have a beautiful child and a chance to go find someone that makes each of them happy, which is best for all parties involved. Sometimes, you have to let go of somebody in order for you both to grow and the door officially closing on "Josby" can only move both of their characters forward. (Having Crosby be the one to end it was a nice reversal, as it's always felt like he was more into Jasmine than vice versa.) I may not like either Crosby or Jasmine all the time, with his immaturity and her shrillness, but their bout with dating, co-parenting, and emotional baggage has been the most down-to-earth bit of storytelling on this season of Parenthood.
Plus, their situation is such a unique one on television that I want to continue seeing how it plays out. The "two single co-parent" family doesn't get a lot of shine and Crosby and Jasmine are showing that you can do it without one side being inherently evil.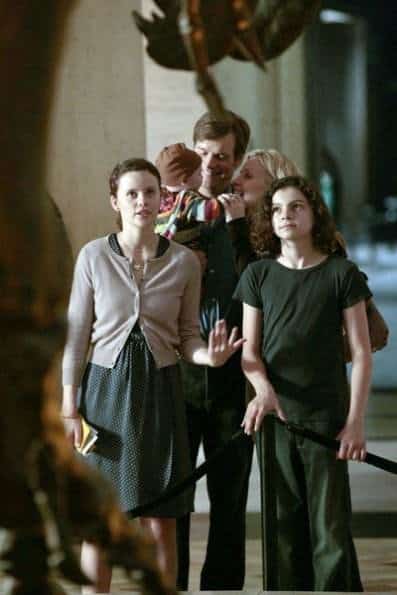 Less great was the end (?) of the Baby Black Market, as Julia has totally shut Zoe out of her life following an extortion attempt by Zoe's baby daddy Troy. Trust me, I'm glad this is looking to be over, mostly because it'll free up Joel and Julia to do something better, but the way it was handled felt a little rushed to me. It was as if Julia was taking her ball and going home, so to speak, with her nearly childish refusal to talk to Zoe, her final "I would've been a great mom to your baby" line, and the laughable excuse that she was going to play with her daughter. I'm sorry, isn't this the same daughter that we've barely seen this season, that you've all but ignored to focus on harassing the coffee girl at work? I understand that everything Troy said was a major, major red flag to Julia, but we never got to see her talk with Joel about this or know how either felt about the thought of losing Future Baby Graham. If we had been a part of the process and understood how anguished, having Julia say goodbye to Zoe would have been a lot more powerful, but it rang a little hollow and thus had next to no stakes.
The most not-great storyline was the ultra derivative "Max goes missing, but that's okay 'cause it brings Kristina and Adam closer together"; we've already seen a Braverman run away (Amber – season one), so it was hard to care what went on because you knew exactly what would happen. There was the requisite frantic parent(s), the sibling that feels like they're to blame, and the subsequent reunion, only differentiated by Max's syndrome and his desire to feed his pet reptile Guacamole. And of course, Kristina forgives Adam (and Rachel) for the Drunk Peck Heard 'round the World, due to being afraid for Max or something. I don't have a problem with Adam and Kristina making up, but how does what happened in "Missing" help their relationship going forward? It may have just been short handed for TV, but I find it hard to believe that two stubborn, hyper verbal people like Adam and Kristina wouldn't talk out their issues a little more before resolving their issues, especially when Kristina acted like it was the end of the world as we know it last week. Part of the beauty of Parenthood is how messy and non-perfect it can make its characters, but this just felt like too clean of an ending that ignored underlying conflicts in favor of the warm-and-fuzzies.
Going forward, it'll be interesting to see what happens with Team Braverman, as there aren't many clues about what they'll be dealing with next. Perhaps we'll get to see more of Haddie's frustration at being the sibling of someone with Asperger's (very worthy of being explored), a look at Amber's new job (that appeared too soon for me), or Sarah and Mark exploring the thought of a baby (NO)? Whatever happens in Braverman-land, I hope that the show remembers that what it does best is explore the minute details in family life with equal parts sensitivity and humor, because that's what the tail end of the fall run has been missing and what Parenthood needs to truly be great.
Thoughts, Quotes, & Observations:
-"Who's more appealing than this? No one."
-"So, speaking of Amber trying to get a job, I slept with Jasmine last night."
-"Donna, will you please go yell at somebody?"
-"I can't nurse her technically."
-"I like a jean jacket on a baby. What can I say?"
-For me, this season has been a pretty decent B. It's had some stellar moments, but a few of the major plots haven't connected and there's yet to be a truly outstanding episode. After the midseason break last year, the show mightily stepped up, so it could very well happen again.
-Though both were short, I'm glad there was a Haddie/Adam scene and a Crosby/Sarah scene.
-The song that was playing while Mark and Sarah held the baby was Mat Kearney's "Hey Mama". You're welcome.
–Zeek's commercial finally debuted. Yay continuity.
-Adam's exasperated "OH MY GOD" after his phone won't call Kristina was really funny.
-Since there won't be a next week for Parenthood (the show is off until January), leave a comment letting me know what you think about season three thus far and where you hope the season goes in its final seven episodes.