Apologies for not getting a review out last week, guys. My laptop decided to try and stage a coup, but after a week and a half of tussling, I think I finally got it back in working order.
Some of my favorite episodes of Parenthood are structured around a central, ambiguous concept, with each of the various storylines exploring an avenue of the concept. This way of arranging/writing an episode makes things feel a little more cohesive while showing that one may not be aware of all the nooks and crannies of things like control, perception, and self-awareness, three "ideas" that the show has explored in the past.
"Sore Loser" was no different, as we got to spend 42 minutes watching the Bravermans dealing with the concept of loss through tantrums, self-reflection, and crushing realizations. It was an episode that didn't pack as much of an emotional wallop as last week's "In-Between", which made me a mess several times, but that hit on a lot of good stuff that made it a satisfying bit of TV.
The title comes from Sydney's (remember her?) sudden descent into Crazytown, as Joel and Julia's coddling of their young daughter finally came back to bite them. Or, in this case, smack Joel in the face after a ruthless game of Candyland. No, really, cute little Sydney exercised a strong pimp hand and actually hit her dad, a scene that was both terrifying and weirdly funny; you don't expect to see something like that and when she did it, I may have let out an uncomfortable giggle, but what sealed the scariness was Joel's reaction. Sam Jaeger never gets anything to do and when he does, it makes you wonder why he's so often a floater on this show. For half a second, I thought this little lesson in humility that Joel wanted to teach his daughter had taken a dark turn and we were about to see spanking brought into the Braverman world; intellectually, I know that won't happen, considering Joel's demeanor, but Jaeger's intensity and barely restrained anger was fascinating to watch. As a whole, I liked Sydney getting some shine, mostly since it stoked some of the insecurities that Joel and Julia have about their parenting and touched on the idea that every parent will have some regrets. The sped-up conclusion made sense to me, following Sydney being "broken" by her parents, though the entire thing being set into motion by an increasingly grating Zeek only annoyed me.
Plus, it gave Julia a chance to get drunk and pass out while keeping her daughter locked in her room, which was another funny shot in a storyline that saw what happens when the "innocence" of a child is lost to increased bad behavior.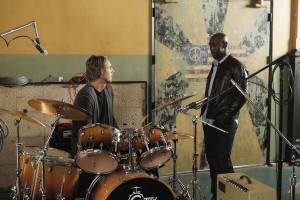 While it was nice to see Joel and Julia away from the dregs of the plotline with Zoe, other aspects of the show shone a light on the issue of loss. Most of season three has found Sarah learning how to let go and accept the loss that is bound to come in her near future. She had to say goodbye to Seth once again, Amber moved out, and now Drew has decided to go kicking and screaming into adulthood, whether Sarah likes it or not. If "Sore Loser" is an episode about loss, season three has been a season of loss for Sarah Braverman, culminating (thus far) in a rift with her only son. After Drew gets a D in math, she tries to tighten the reins a little bit, forcing Drew away from Amy and toward a textbook. When you're a 16-year-old boy with your first girlfriend and a mother who has been a little lapse, shall we say, with the discipline, punishments like that won't stick, but luckily for Drew, Mark and Camille had his back. After coming to the realization that this punishment won't work for Drew and that she may have to come to terms with the fact that he's coming out of his shell a little, Sarah relents and offers some ice cream as a peace offering.
The evolution of Drew has been one of my favorite aspects of season three. He's still a kind, sensitive soul with a touch of teenage awkwardness, but he's made some progress this season in terms of standing up for himself and learning how to speak up. (There is the whole "he just said he loved his girlfriend" thing, too, of course.) I was waiting for the inevitable clash between Drew and Sarah the second Amber actually moved out and their scenes tonight didn't disappoint; there wasn't a whole lot of fireworks in the same way that Amber/Sarah arguments usually had, but Drew very rarely raises his voice and bucks when disciplined, which made something like "Sore Loser" stand out against his other storylines. What we saw tonight may have been one small step toward Sarah having to let Drew go in the near future, but it was one giant leap for Drew in terms of self-assurance and independence.