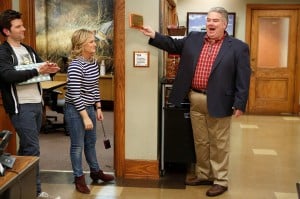 We are getting a double dose of Parks and Recreation tonight, with back-to-back new episodes. Yes folks, that's right, we are laughing twice as much with Pawnee's best and possibly saying goodbye to one of our favorites (Jerry)…or are we?
In the clip below, the office space of the Parks department will be in shock when they find out that Jerry (Jim O'Heir) is retiring during the second half hour's episode titled "Jerry's Retirement". Certainly we can all expect Leslie Knope (Amy Poehler), to do something to commemorate the special occasion – that is, after her shocking "What?!" reaction to the news has faded. And from the looks of it, who can blame her? Nobody had the slightest idea their office funnyman was leaving the department. Now, because of Jerry's departure, Tom (Aziz Ansari) worries that he will become the office punching bag. My question is whether he'll actually be leaving or possibly coming back for another position?
Meanwhile, Chris (Rob Lowe) and Ann (Rashida Jones) take on the next step to making a baby and visit a fertility clinic; making Ann's dream of having a child one step closer to coming true. These two have to get together one day, right?
Check out some clips below and watch tonight's Parks and Recreation two all-new episodes "Article Two" and "Jerry's Retirement" on NBC at 9:00 p.m. ET/PT
http://youtu.be/3b9LCIdT7oI
http://youtu.be/POKgfz8PhUc