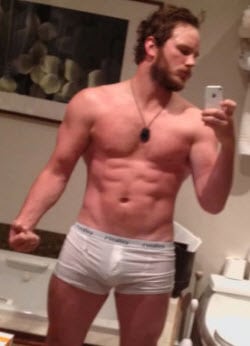 If you're like me, when you first saw the trailer for Zero Dark Thirty, you were a bit perplexed. "Is that Andy Dwyer?" you'd ask as Chris Pratt appeared onscreen as a Navy SEAL. Indeed it was, and Pratt is making his second appearance in an Oscar-contender film, last year showing up in Moneyball opposite Brad Pitt.
But a Navy SEAL? How exactly would the pudgy Pratt pull that off? Well, as you can see, to get in shape for the movie he got absolutely jacked, something we can't exactly tell during a given episode of Parks and Recreation.
This picture may have the ladies hoping that we'll get a Pratt shirtless scene when Parks and Rec returns, but that's probably not going to be the case. Pratt actually turned around and gained sixty pounds after getting this ripped for another role. Now that's Christian Bale level dedication right there.
So what does he look like now?
Helloooo ladies! But still, crazy to see how someone can transform back and forth like this at will. He's a dedicated guy, that's for sure.