"We only have one chance to make a second impression."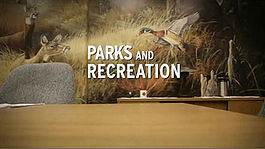 Last week's episode of Parks and Recreation ("Harvest Festival") was one of the best episodes of the series. As I said in my review, this show is "winning so much that Charlie Sheen should be jealous." The entire season led up to that Festival; now that it's over, what is Leslie "the Energizer bunny of city government" Knope going to do? Go camping!
The Harvest Festival was ultra-successful (80,000 showed up; the Pawnee Journal headline was "Harvest Best-ival") but what's next? That's the issue facing Leslie even when she and the gang are out in the woods. "We only have one chance to make a second impression," she says. Before they pack up and hit the woods, we learn that April hates camping, but Andy tells her he'll make her like it. Even if he can't, he promises her lots of making out. Ann and Chris have a funny but awkward encounter and make condiment jokes and plans to catch up. (Catch up, not ketchup.)
Of course, there were no shortage of laughs once the trip began. Ron states that fishing relaxes him. "It's like yoga, except I still get to kill something." Ben has never been camping before, and says he'll just sleep "on the floor." Ron reminds him that "it's called the ground when it's outside." Tom ordered a (very large) tent full of just about everything from Skymall, including the one and only DJ Roomba(!) who makes a brief but triumphant return to the show. Ron and Jerry go fishing, and Ron is horrified by Jerry's personal stories about his daughter and the age he lost his virginity. Ron later claims that Jerry scared all the fish away with those stories. I loved that Ron's idea of a horror story involved state inspections, reminding us of the trip (departed cast member Paul Schneider) Mark Brendanawicz took to Ron's house last season. Andy got himself lost and spends the entire episode searching for everyone else, and finally has a Lloyd Dobler Say Anything moment, luring April out to his tent for the making out he promised. We also see Chris and Ann's dinner, where she reads him all wrong and leans in for a kiss, only to find out that he doesn't want to get back together with her. She then says she's going to have to leave the country; let's hope that doesn't happen!
The entire time, Leslie is freaking out because she doesn't have any idea what to do next. Ron saves her from herself (she was listening to Len's "Steal My Sunshine" on loop because they were a one-hit wonder and she was afraid of being one too) by locking her away for a night at a creepy (and catty) bed and breakfast so she can get some sleep for once, and reminds her that she's the reason they all still have jobs, which is very true. She put her co-workers and the staff (and in effect, the show) on her shoulders and delivered. She gets seven hours of sleep (twice as much as she normally gets, according to her) and comes to work the next morning with a doily full of ideas for Pawnee.
Her doily of ideas leaves everything open as to what happens next. The sky is the limit for Pawnee and Leslie, and the same is true for the show itself, even if that sky is full of pollution from the Sweetums factory. Grade: A-
Note: Parks and Recreation returns April 14 with an episode entitled "Fancy Party."