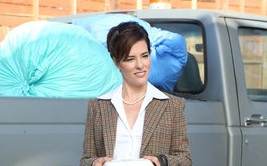 A new episode of Parks and Recreation will be airing tonight on NBC and Parkey Posey will be stopping be for a guest appearance.
Posey will star as Leslie's (Amy Poehler) former best friend. On tonight's episode, Eagleton, a neighboring city, will be putting up a fence around one of their town parks. Leslie calls on Posey's character to help take it town. Leslie is also busy trying to plan a birthday party for Ron, but Ron's going to do anything he can to stop her.
Below are three sneak peeks for the upcoming episode of Parks and Recreation.
And don't forget, Parks and Rec fans, the show has already been renewed by NBC and will return as part of NBC's comedy line-up in the Fall.
clarissa @ tvovermind.com
twitter.com/clarissa373
twitter.com/tvovermind