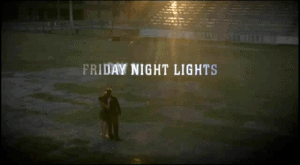 Well now you can be. Sort of.
It was reported by NBC today through press release that you can now own a part of the small town depicted in the critically acclaimed series, Friday Night Lights.
In support of their airing of the fifth and final season of this remarkable show, the network will begin auctioning off prop pieces on nbcuauctions.com beginning on April 19th. Items will include Coach Taylor's (Kyle Chandler) East Dillon Lions playbook and game balls as well as Dillon Panther trophies and helmets among many other props from the series five season run.
The auction is slated to last until September with new items added each week. In addition, the NBCUniversal store is also bringing back the jerseys and other wardrobe items seen on the show for purchase beginning the 29th of this month. You don't have to wait for all the new merchandise though as they've just recently added new items including blankets, signs and iPhone covers with Coach Taylor's team motto: "Clear Eyes, Full Hearts, Can't Lose."
Part of the proceeds from the auction and wardrobe sales will benefit youth football programs in need as chosen by NBC Universal's "Green is Universal" initiative.
I'm sure Coach Taylor would approve.
Don't forget, if you haven't already seen the final season of Friday Night Lights by way of DirectTV or DVD, catch the 5th season premiere tomorrow night at 8pm EST on NBC.
And get your credit cards ready and let us know what part of Dillon you'd like to own in the comments below!