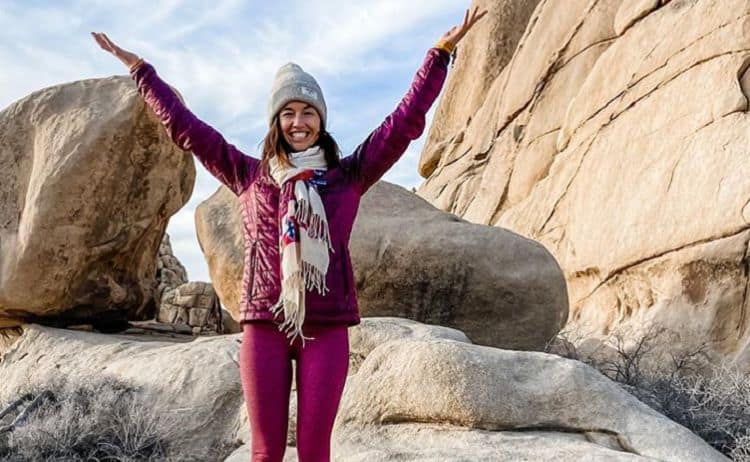 Parvati Shallow grew up on a ranch in Florida where they lived as a community and practiced yoga and meditation. She has, therefore, not forsaken her roots and still practices the mind-calming techniques. She used to be a boxer, after following her calling to get into the entertainment business, and later joined "Survivor" where she has made a name for herself. Parvati is fiercely competitive and only plays to win, using whichever strategy with the end goal in mind. Here are ten facts you probably did not know about the reality star.
1. She got engaged to John in London
Parvati is an avid fan of "Survivor", and when she watched season 29, she noticed how John Fincher was cute. They must have been destined to be together because, in 2013, she met him at a Grassroot Soccer Charity game where she and her survivor friends were going to play. As the car filled up since they were carpooling, John sat next to Parvati, and she was surprised at how comfortable she felt being close to him, thus became attracted to him immediately. They began dating, and in 2017, John proposed to Parvati in London during a romantic trip after she met some members of his extended family.
2. Why she felt she had to go back to the reality show
Motherhood is fun, and as much as mothers love their babies, there are times they wish they could have a day off. Unfortunately, that rarely happens but Parvati found the opportunity to be on "Survivor" ideal for her to regain her sanity. After taking a break from reality television for almost two years, she felt it was time to go back despite the heartache of being without her baby for a month and a half.
3. She hoped that being away from her daughter would help her husband bond with her
The person who spends a lot of time with the baby will develop a stronger bond with her. Parvati had been the primary caregiver for her baby hence she knew that with her gone, John would have to step up and be the primary giver to Alma, giving them enough time to connect. Parvati was right; John and Alma connected, and it became the biggest blessing she received from being away.
4. She did not expect the producers to want her back
After winning $1 million, you would think that Parvati was done with reality television and enjoying her life. She even said that the competition drained her emotionally and physically; hence she would not go back. Surprisingly when the producers called her back, she was excited. Still, she wondered why they would want her back because after being in two seasons of the show, she thought they were tired of seeing her around. She reasoned that the competitive spirit had something to do with being asked back, according to AJC.
5. Her body was negatively affected after being on "Survivor."
Parvati disclosed that some think being on the reality show is the perfect way to lose weight, but it is not. Being starved and going on a diet are two different things, and Parvati experienced the stinging pangs of hunger for 39 days when she had to live on whatever she could find. She, therefore, became vitamin-deficient and lethargic, so when she went back home, she had to regain the weight she had unwillingly lost by eating ice cream and quesadillas. Worse of it all, her crown of glory kept falling for a year after returning home.
6. She would never be on "Big Brother."
Parvati may have set herself apart from other reality stars by being on a reality television several times and even going ahead to take the cash prize but being on "Big Brother" has never crossed her mind. The reality star hates the reality show so much that she has never even bothered to watch it because she finds it boring.
7. She had turned down several offers to go back on "Survivors."
The producers of "Survivor" must have faith in how much Parvati can make the show interesting because they kept asking her to be on the show, but she turned them down. As much as she loved the thrill of being competitive, she did not see the point in going back unless it was challenging enough. Therefore as per TV Line, she said she would only go back if it were an "All Winners" edition or if she got to be with her husband in "Blood or Water." Therefore when they asked her again, Parvati knew it had to be one of the options she had given them, and sure enough, the reality star got to be in "Winners at War."
8. Jeff Probst thinks she is the best winner in the show's history
To be the best in anything is quite an accomplishment and of all the contestants who have won in "Survivor," Jeff opined that no one played the game like Parvati. In his words, while every other winner was a genius, Parvati was committed to winning and used her charm and mental games to send home her opponents. He even compared her to a surgeon performing a delicate operation, thinking of every move and in the end, closing up the wound skillfully.
9. Her biggest fear going to "Winners at War" edition
When Jeff kept praising Parvati as the best winner, it was kind of him, but it also meant that other previous winners felt they had something to prove to Parvati; that she was not the best after all. She had noticed how much people wanted her out of their way in the other seasons she had participated in, and this time, she knew it would not be any different. For that reason, her biggest fear was having a target on her back; hence she prepared by watching the strategies that her opponents used.
10. She did not mind being placed in the "villains" team in "Heroes vs Villains" edition
Although Parvati knows she has a pleasant personality, it did not bother her to be in the "villains" team because some of the strong personalities were in it. Secondly, she is mischievous and was usually picked as the bad seed.