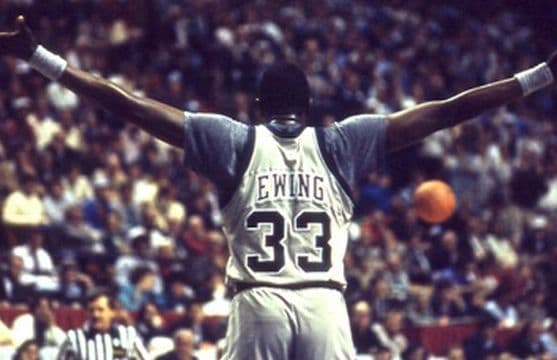 As the saying goes, "it couldn't have happened to a nicer guy."   Sources have confirmed today that Patrick Ewing will be the next head coach for the Georgetown Hoyas.  As most sports fans know, Ewing attended Georgetown University as a collegiate athlete where he dominated the NCAA.  Ewing was voted as the 16th best college player of all-time and is in the coveted NBA 50.  Unfortunately Ewing never won an NCAA or NBA championship but he'll always go down as one of the best centers ever as well as one of the most beloved Knicks players in history.
After Ewing's hall of fame NBA career ended in 2001, he began his assistant coaching career shortly after his number was retired by the Knicks in 2003.  Ewing's been pining for a head coaching spot in the NBA for what feels like over a decade.  Not one player in the league has anything bad to say about Ewing but for some reason he never got his shot.  Perhaps he can prove himself with the Hoyas and graduate up to the NBA.  Or maybe he'll turn his Alma Matter into an NCAA powerhouse again and become a revered college coaching legend.
Ewing's interview, which was first reported by The Vertical, will come while Ewing's current employer, the Charlotte Hornets — for whom he works as associate head coach under Steve Clifford — is in town for a game Tuesday night at Verizon Center against the Washington Wizards.
I wish Patrick all the success in the world and truly hopes he proves all those that didn't hire him in the NBA as a head coach wrong.