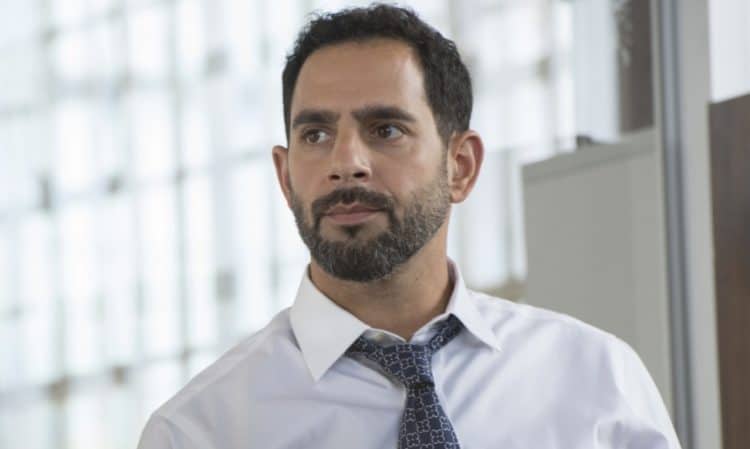 Patrick Sabongui is an actor who is best known as David Singh in the popular television series "The Flash" that airs on the CW network. Since appearing in the role his popularity has soared with viewers. For fans and admirers who would like to learn more about him, here are 10 things that you probably didn't know about Patrick Sabongui.
1. He is of Canadian nationality
Patrick is a Canadian actor who was born in Montreal, Quebec, Canada. His birth date is January 9, 1975, which makes him 44 years of age, at least for another month. He has a birthday coming up soon and will turn 45. He was raised in Canada and he still owns a home residence in Vancouver, British Columbia, Canada.
2. His family is of Egyptian ancestry
You cannot tell by looking at a person, in most cases what their ethnic ancestry is, and many of us are not certain exactly where our families originated from. Some are from a variety of backgrounds. Patrick knows that his family has its roots in Egypt.
3. He has homes in the US and Canada
Patrick Sabongui's acting career has made it necessary for him to be present for long periods of time in the United States. Although he has maintained his Canadian citizenship status, he also owns a home in the United States. In addition to owning a residence in Vancouver, he also owns a home in Los Angeles, California. He has spent a number of years living in America.
4. Sabongui is highly educated
Patrick attended Concordia University where he studied drama for human development. He earned his BFA degree in the discipline, but this was not the end of his educational endeavors. He continued forward after receiving his undergraduate degree and then went on for his graduate degree at another school. He enrolled in the University of California, Irvine where he earned his Master of Fine Arts degree in acting.
5. He's a teacher
Patrick took the right steps to ensure that he would have a job regardless of how his career as an actor developed. He is qualified to teach drama at the high school, or university level or even operate an acting school of his own. He has spent time as a drama teacher. He holds impressive credentials and he enjoys passing on the things that he has learned and gained through experience to other hopefuls who are just learning the basics as well as some of the finer points of acting.
6. Patrick Sabongui is a versatile professional
Many of Patrick's fans are not aware of his many skills and talents. For those who only know him from his role in "Flash," there is so much more to this versatile actor. In addition to being an actor, and an actor he is also a stunt performer. This adds an entirely different dimension to his level of professionalism. He's an impressive guy who has a lot of different skills to his credit. Sometimes there is a lot more to a person that is commonly known about them and Patrick is certainly one of those rare individuals who has a lot of wonderful experience to share with others both in film and in the classroom. He is among the most versatile professionals in the entertainment business.
7. He is a family man
Patrick Sabongui is a married man. His wife is Kyra Zagorsky. The couple dated for a while and they were married on the 5th of August in 2002. They have two children together. When Patrick is not busy with his acting career he is spending time with his family. They spend their time living between the United States and Canada, depending upon where he is needed for work at any given time. It's an interesting life and it must be nice to have two complete residential setups to choose from. It's a lifestyle that works for them.
8. Patrick's parents are also educated
Patrick's parents are also professionals. He was born to a mom and dad who held down the positions of French teacher and librarian and psychologist. In addition to this, he has a younger sister and three older brothers. There are a total of five children in the Sabongui family. The education process began at home as everyone in the house spoke three languages, which included Arabic, English, and French. This gave them all a good start in life. It is no small wonder that Patrick didn't stop at his undergraduate degree, but rather continued on to earn his master's degree. A love of education is something that has been instilled in him since birth.
9. He has an impressive acting portfolio
We also learned that Patrick Sabongui has a total of 116 acting credits in his resume. He has appeared in dozens of television series and films. Some of the roles that he has played in include Foster Bryant in "Inside the Seed" in 2013, as Marcus Waltz in "Godzilla" in 2014, a Persian General in the film "300" with Gerard Butler in 2006, and many more. He is a veteran actor who has done a little bit of everything including spending time during his early years as a stage actor.
10. He's also a competitive athlete
If you were already impressed by Patrick Sabongui's long list of accomplishments, there's more. Prior to becoming an actor, he was also a competitive martial arts athlete. Patrick also has a love of the great outdoors and he is also a mountaineer which means that he has had to maintain a high level of physical fitness. Both of these activities require a person to be in excellent physical condition and being athletic has also helped him in certain roles that he has played in his acting career. There is so much that people who admire Patrick do not know about him and we think it's important that his fans know what an amazing guy he really is.