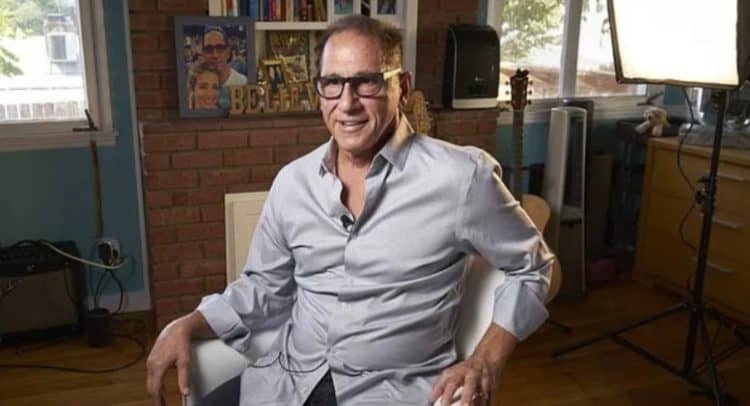 Anyone who follows the hottest gossip must have caught the latest about Demi and a mystery man with whom she had an affair. People speculated about who the man could be until Paul came forward to set the record straight. Paul Carafotes is an actor whose career spans over three decades, but he had remained out of the limelight until the scandal surfaced. For those who are interested to know more about Paul, here are ten facts about him.
1. What influenced his love for performing?
Paul began performing at a young age, thanks to The Beatles. He watched the band on the Ed Sullivan show and thought he could be just like them. Consequently, he held a band performance in his father's garage and even charged for admissions. The small fee did not stop the neighborhood girls from coming to see the young Beatles' wannabes put on their best show. The love for performance continued, and in his high school, Paul was cast in a play. He was so good playing the lead role that he got hired to act in someone's college thesis. It prompted Paul to think about taking his passion as a profession.
2. How he landed his first commercial agents
At the time Paul began pursuing his acting career, he did not have an agent. Therefore the chance to land any role was a challenge, and he moved from door to door with a slightly embellished resume. Paul thought he could worm his way into any agency by using his charm on every receptionist he came across. Unfortunately, none of his efforts yielded positive results. Luckily things started looking up for the actor when he knocked on the door of Jacobson/Wilder, who became his first commercial agent. He later got a three-year contract with LeMond-Zetter Management, the biggest agency at the time.
3. The first movie he thought was worthy of Hollywood
There is always one thing that you believe helped lay the foundation for your career, and for Paul, it is "All Right Moves." The film, whose budget was $5.6 million, was released in 1983 and managed to accrue over $17 million in Box Office sales. According to Paul, that is the first movie he felt was real Hollywood material, although he had kick-started his career in 1979 with "Headin' for Broadway." He starred alongside Tom Cruise who he felt was destined for greatness.
4. He took his roles very seriously
In his interview with Greek Reporter, Paul disclosed that he took his roles seriously in his earlier days. Therefore when he took on the part of a violinist in "Choices," Paul learned how to play the instrument. It was not easy for him since he is left-handed, but since he thought the character was right-handed, Paul learned how to play with his right hand. When he played a dancer in "Headin' for Broadway," Paul would spend every minute he could spare after shooting in dance classes.
5. He uses writing as his creative outlet
Paul is multi-talented because, besides acting, he also is a director and producer. The experience of directing and producing gave him a new perspective; unlike acting where one follows the script, directing enables one to put the elements together. He loves writing since it is a solitary task that is also fulfilling. He uses writing to remain creative and get the pain out of his chest. Music is his hobby, and in the film "Club Soda" he wrote five songs.
6. He is proud of his Greek roots
Paul has Greek roots, although he cannot speak much of the language. His wish to pursue acting interfered with what he could have learned at Greek School. With the lesson learned, Paul began teaching his son a few Greek words as well as how to count to ten in the language before enrolling him in Greek School. After his father died, Paul took his mother to visit Greece, where he has lots of relatives. His dream remains to work in the country where he found smart people during his visit.
7. He feels guilty for helping Demi cheat on her fiancé
Of course, there is one reason that Demi remains an unforgettable woman to Paul; she cheated with him the night before her wedding. Although Demi does not reveal who the mystery man in her book is, Paul came out to affirm that indeed, he is the mentioned man. According to Paul, he did not want to sleep with Demi, but she was adamant, so he left the window to his room open so she could climb up. Since Paul had a friend staying over, he took Demi to his apartment in Westwood. He blames their youth but feels guilty for sleeping with another man's fiancé, according to Daily Mail Online.
8. He was an alcoholic
Demi Moore had a rough marriage with Freddy Moore, who blames her love for partying for the failure of their relationship. The problem rolled over to Demi's marriage to Ashton Kutcher, whom she claims mocked her for her alcoholism. According to Your Tango, Paul was proud that Demi had found sobriety. Paul had also struggled with alcohol addiction but had resolved to mend his ways. The actor is now celebrating 17 years of sobriety.
9. What inspired his books?
Paul has written three children's books, and each has an inspirational story behind it. He wrote the "Adventures of Charlie Bubbles," his first book after the birth of his son, Charlie. It was about how his son, who could blow magic bubbles and had adventures in a world of ants. The second book titled "Charlie Bubbles 2: Smartsville" was inspired by Paul's and Charlie's love for the Beatles. The book is dedicated to Liliana Ruth, the late James Gandolfini's daughter, in memory of him. Paul did not think he would write more than one book, but Charlie asked if there would be a third book. Matter of fact, he had already come up with the title "Charles Bubbles to Fenway Park." Just like that, the third book was born, and Paul traveled to Fenway Park for the first time.
10. His son inherited his love for music
Paul's brother got "She Loves You" Beatle's record and from the first time that four-year-old Paul heard it, he played it 1000 times. Charlie inherited his father's love for music, and when he got a drum set, all he played was The Beatles' "A Hard Day's Night." Charlie can also play the guitar and piano; hence, Paul and his son spend lots of time jamming together.