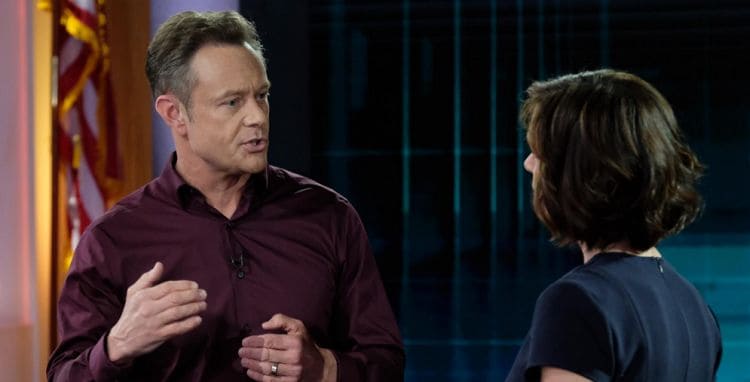 The true crime genre has really grown over the last few years. Although learning about violent crimes can be scary and off-putting to some, there are many people who love learning about all sorts of different cases. There are even some people out there who enjoy helping solve them. Paul Holes, who made a career for himself as a cold-case investigator in the real world, is now sharing his skills with true crime fanatics. Paul made his introduction to the entertainment industry more than a decade ago with appearances on various true crime shows. Now he is on TV in a very major way as the host of America's Most Wanted. Although bringing the show back after nearly a decade and replacing John Walsh means that Paul has some pretty big shoes to fill, he's ready to rise to the occasion. Keep reading to learn 10 things you didn't know about Paul Holes.
1. He Studied Biochemistry
Paul's journey to becoming an investigator wasn't exactly a straight shot. He earned a bachelor's degree in biochemistry and his original plan was to secure a job at a crime lab. While he did work in forensics for a while, he ultimately decided that he wanted to be on the more investigative side of things.
2. He Likes To Workout
It goes without saying that working as an investigator can be very stressful. Paul had to deal with lots of high-pressure situations during his years on the job. Working out has always been his favorite way to relieve stress. Paul makes it a point to exercise on a regular basis.
3. He Released An Audiobook
Paul's opinion is widely respected by people all over the world. He loves sharing his experience and knowledge with others and in 2018 he released an Audible original audiobook called Evil Has a Name: The Untold Story of the Golden State Killer Investigation.
4. He's A Husband And Father
Paul's career has taken up a lot of his time over the years, but he has been fortunate to have a very supportive family at home. He is happily married and he and his wife have three adult children together. Paul's wife and kids have stayed out of the spotlight.
5. He Loves The Outdoors
True crime isn't the only thing that Paul is passionate about. When Paul isn't busy working on various projects, you can usually catch him outdoors enjoying a beautiful day. He is an avid cyclist and he loves exploring local trails. Paul also loves to get out and go for a hike.
6. He Hosts A Podcast
In addition to the TV appearances he's made throughout the years, Paul has also shared his passion for investigating with the podcasting world. He is the co-host of a podcast called The Murder Squad. Each week, he and his co-host, Billy Jensen, dive deep into an unsolved murder case.
7. He Was Instrumental In Finding The Golden State Killer
Although it's not common for people who work in law enforcement to become celebrities, Paul Holes has become a star in his own right thanks to the all the work he put in to capture The Golden State Killer. Originally known as the East Area Rapist, The Golden State Killer raped and murdered more than a dozen women in California during the 70s and 80s. However, the case eventually went cold. When asked how he even became involved in the case in the first place, Paul told Ishi News, "I literally stumbled across the Golden State Killer case. At the time, [he] was known as the East Area Rapist. As a new Deputy Sheriff Criminalist, I was just hungry for knowledge, and the Contra Costa County Sheriff's Crime Lab had this amazing library that the previous generation of criminalists had built up, and I spent a lot of time in there."
8. He's A Private Person
When you do what Paul does for a living, it's easy to see why you would be a little less trusting of the world. That being said, Paul is a very private person. Although he is active on social media, he doesn't share many details regarding who he is outside of his work.
9. He's A Dog Person
Despite him being private, one thing we have learned about Paul through his social media is that he's a dog lover. He has an adorable dog named Cora who makes regular appearances on his Instagram profile. The fact that Paul loves dogs isn't too surprising seeing how dogs and law enforcement have a very close relationship.
10. He Likes Interacting With People On Social Media
Paul might not be the most active social media user in the world, but when he does get online he likes to interact with his supporters. He doesn't respond to every question or comment he gets, but every once in a while you'll see him answer a tweet from a fan.