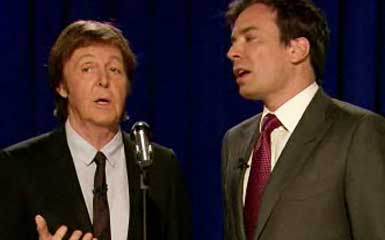 I think it's safe to say that the "selife" has taken over society. You can't go anywhere without someone turning a camera on themselves to take some shot for them to post to some social media platform somewhere. What is interesting about this is, if you watched Late Night with Jimmy Fallon last night, you saw that he had Paul McCartney on. You know, the same Paul McCartney that was in The Beatles? The same Paul McCartney whose music forever changed the world? The same Paul McCartney who claims he invented the selfie!
Oh, and the photobomb.
It was then that Sir McCartney held up a photo of him from way back when he was a kid, and wouldn't you know it, he is standing in front of a mirror, holding an old camera, taking a pic of himself. I would love to sit here and tell you it does not look like a selfie, but the irony is that it truly does.  So along with creating music that forever changed the world, it's turns out that Sir McCartney is also now being credited with inventing an internet phenomenon more than 50 years prior (more like 60 years) to the selfie being a hit.