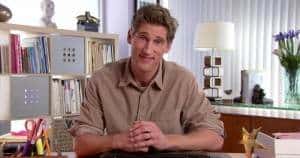 As more and more of our television viewing migrates to the internet and our computers, studios are working on putting together better and better web series for viewers. One amusing new web series is Paul the Male Matchmaker, which made its debut on Hulu today.
Co-created by Liz Tuccillo (He's Just Not That Into You, Sex and the City) and star Paul Bartholomew, the series begins with Paul inheriting his aunt Cathy's matchmaking service. Despite not being successful at most of his previous endeavors, Paul is convinced that he's qualified to act as a matchmaker, since, as he explains, "I'm really attractive/super-likeable. I'm a really, really happy person. And I have a fantastic marriage…to someone who is really rich. I think I'm going to be super-successful at helping women find love."
Make no mistake, Paul is utterly ridiculous. And kind of mean. But that's the whole point of the series. Liz explained that the idea for Paul the Male Matchmaker came about because "I had been complaining to [Paul] how people have this way of – still in this day and age – assuming that if you're a single woman that you're doing something wrong and there's something wrong with you. It wasn't really much of a specific incident that we stole and put in the show, but an overall outrage about how single women are still treated."
Each episode of the web series averages about 5 to 7 minutes and is arranged around a theme, like 'how to do first impressions' or 'what the movie Speed can teach you about how fear can jump-start relationships'. The show works pretty well as a web series, which was an idea that initially appealed to Liz and Paul. As Liz explained during our recent conversation "We were excited about making a webisode series in general because we were thinking this is where this idea would best be suited. And the webisode seemed like a great way to workshop an idea and sort of get it out there as quickly as you could and see if it has legs. The webisode format came first and it was ultimately Warner Bros. that made the deal with Hulu. But before even we got the webisode series made, Paul had made a little series of videos to workshop the idea."
Paul the Male Matchmaker is full of fun and recognizable guest stars, including Janeane Garofalo (The Larry Sanders Show), Lisa Edelstein (House M.D.), Tony Hale (Arrested Development, Chuck) and Sam Trammell (True Blood) who all came out to help Liz and Paul "put on a show".
As mean as the matchmaker is, people should recognize that he's basically a buffoon who is, as Paul described, "…clueless. I think he really feels like the things he's doing are great ideas, are great ways to help these women find someone in their life. I think he's definitely all in." But humor is the point of the series. We should all be able to laugh at the ridiculous advice that Paul gives to women and realize that "we purposely made it harsh, to sort of point at how ridiculously mean people are to single women" Liz explained, "The goal was to be purposely harsh in order to poke fun at that."
All 10 episodes of the first season are currently available online and, if the series catches on, both Liz and Paul hope for a future for Paul the Male Matchmaker. "I guess the options are a second season of webisode series or being developed for television or now they have something between, which is sort of like Children's Hospital (15 minute segments)" Liz said.
Catch Paul the Male Matchmaker on Hulu.