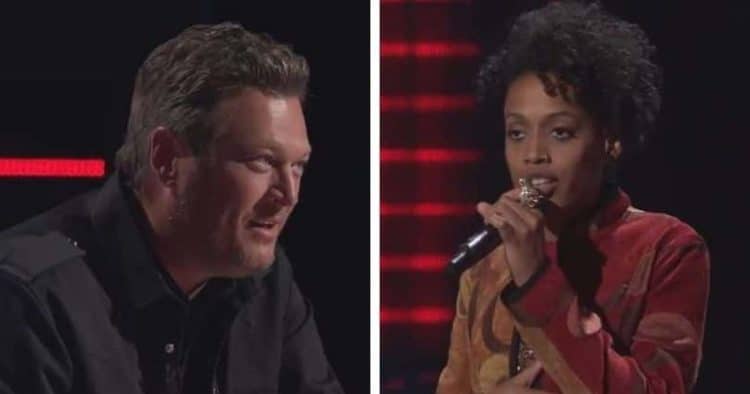 With her unique style and beautiful singing voice, it's no surprise that Payge Turner has been getting lots of attention since her performance of "Call Out My Name" during the blind auditions on The Voice. Payge got both Blake Shelton and Gwen Stefani to spin their chairs around, but she ultimately decided to be a part of Team Gwen. Not only were these two judges impressed with her vocal abilities, but viewers are already feeling her as well. From that one performance, she's gotten lots of new fans and there are people all over the country hoping to see her take it all the way. Keep reading to learn 10 things you didn't know about The Voice contestant Payge Turner.
1. She Was Born In Trinidad
Payge is currently a Seattle resident, but she was actually born and raised in Trinidad and Tobago. She moved to the United States a little bit before her 13th birthday. She originally lived in Kansas with her father and as you can imagine, adjusting to a place with extremely cold winters was a bit of a culture shock for Payge.
2. She Is A Music Teacher
Payge is a very talented musician and performer, but her passion for music doesn't stop there. She also enjoys helping others reach their full potential. She currently works as a keyboard and voice teacher at the School of Rock. Her students are probably very excited to see their teacher finding success on The Voice.
3. Her Name Isn't Really Payge Turner
Most people probably assume that Payge Turner is performing under her real name, but that's actually not the case. Her real name is Paige Roopchan. Sadly, we weren't able to find any information on why she decided to go with Payge Turner for her stage name. Regardless though, it's definitely got a nice ring to it.
4. She Loves Nature
Payge may be relatively new to the Seattle area, but she already fits in with the area's outdoor culture. She loves spending time enjoying the beauty of nature and the outdoors has become a place for her to collect her thoughts and recharge. She loves exploring and working on her music outside.
5. She Studied Music Theory
Payge comes from a very musical family and her mom and sisters are all singers. It was clear from an early age that she had inherited the musical gene as well. However, on top of having natural talent she decided to pursue formal training as well. She has a degree in music theory and vocal performance.
6. She Was A College Athlete
While there are countless people in the world struggling to find just one thing they're good at, Payge has managed to discover multiple talents. In addition to music, she was also a talented athlete who played basketball and ran track in high school. She went on to run track at Colby Community College in Kansas. Her days playing competitive sports might be over, but hopefully she can tap into that same mindset while she competes on The Voice.
7. She Used To Be A Musical.ly User
One of the worst things about the internet is that once you post something, it's basically out in the world forever. With that being said, Payge has probably long since forgotten about the Musical.ly account she made several years ago, but it hasn't forgotten about her. Even though the platform no longer exists, the videos she created are now available on TikTok.
8. She Already Released Original Music
Contestants on The Voice come to the show with a wide range of experiences. Some contestants have already had and lost music deals with others have never really performed in their lives; Payge is somewhere in the middle. While it doesn't appear that she's even been signed to a record label, she has done lots of performances and has already released some original music.
9. She Has A Close Relationship With Her Family
When you're trying to accomplish any goal, it's always nice to have people at your side who can support you on your journey. Payge has been blessed with a very supportive family who genuinely wants to see her accomplish her goals and find success in her career.
10. She Plays The Guitar
During her blind audition on The Voice, the world got to hear what a talented singer Payge is, but what they didn't get to see is that she is a talented instrumentalist as well. She plays the keyboard and the guitar and is constantly practicing and working on her new sounds in her free time.