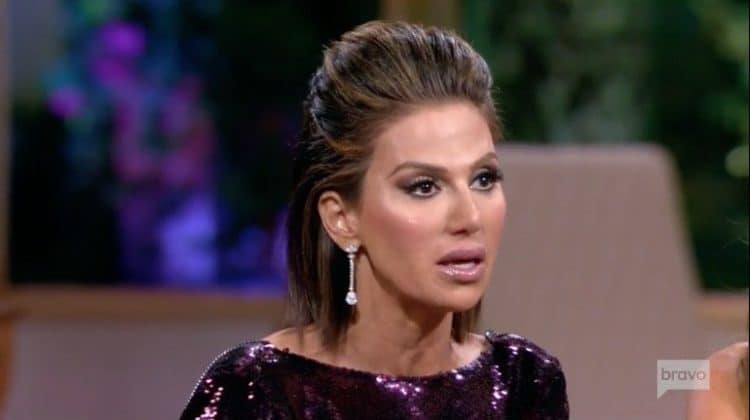 Peggy Sulahian was the proud 100th wife in the famous reality show "The Real Housewives of Orange County" back in 2017. She was the first Armenian-American citizen to have a place in the renowned show. Her participation in the show made her very popular amongst reality shows lovers, and around then, she was amongst the most searched stars on Google searches. Before her participation in the show, Peggy Sulahian lived a quiet life as a housewife looking after her children. Here are a few things that you might not know about the reality show celebrity:
1. Her personal life
According to MarriedDivorce, Peggy Sulahian was born on the 30th July 1973 in Kuwait, but her parents relocated to America in 1974. She is an Asian-American but has American citizenship. Her mother succumbed to breast cancer at an early age of 51, and her father also died back in 2017. She also has a brother, Pol Atteu who has come out openly as gay. She currently lives in the Beverly Hills with her family since 1995.
2. Her relationship status
Peggy Sulahian is married to a business mogul namely, Diko Sulahian, who owns a successful flashy cars' wheels business. Together they have three lovely children: two daughters, and a boy. They are, Giovanna who is 19 years old, Gianelle, 17 years old and Koko, who is just nine years old. The couple's family seems to be doing just fine and are considered to be very close-knit.
3. She had a cancer scare
As revealed by Wikimarried, Peggy Sulahian has had a terrible cancer scare, but she was lucky the cancer cells were detected early. After her mother died of cancer aged 51, Peggy went for a cancer scan, and a lump was discovered in her breasts, the same disease that had taken her mother's life. She opted for a permanent solution to cancer hence underwent a successful mastectomy. In this line, she encourages women to be courageous enough to go for scans early enough to avoid cancer-related deaths.
4. She underwent a corrective nose surgery
Teens are known to be very self-aware, and the slightest of defects on their bodies can cause them to take drastic measures. They do anything to look cool and acceptable in their peer groups. Peggy Sulahian's attractive face is a work of art that has had to undergo some adjustments to forge its perfection. According to The Daily Mail, Peggy Sulahian felt uncomfortable with her pronounced Armenian nose and opted for the knife at the age of 17 years. Moreover, she decided to do the surgery for cosmetic reasons too.
5. She divorced her husband
Most matched marriages are always bound to fail miserably, and Peggy Sulahian's marriage was not exceptional. She is thought to have been match-made with her husband by relatives and later on got married to him. However, the marriage is alleged to have failed within a year. The couple filed for divorce and separated. Nevertheless, they later made up, sorted their differences, and got back together. They now live happily with their family.
6. Her social media involvement
Peggy Sulahian is a very active celebrity on social media platforms. She has a variety of accounts on Instagram, Facebook, and Twitter, among others. The star has about 124.7 followers on Instagram and 23.3k on her Twitter account. She also has another significant 4.7k following population on her Facebook page. She uses these accounts to woo the support of her followers and even entertain them with classy pictures and video clips of her posh life. She also hosts sponsored advertisements on her Instagram account.
7. Her popularity
After her appearance in the reality show "Real House Wives of Orange County," Peggy Sulahian garnered a lot of popularity. She even became a reality fans' most searched celebrity as the fans sought to know more about the new reality sensational. According to Famous Birthdays, Peggy Sulahian has done pretty well for a first-time reality show appearance. In the category of the most popular reality show stars, she is ranked at 29965, for those born in Kuwait she appears 12th in the chart. Furthermore, in the class of celebrities with whom she shares her first name, Peggy Sulahian appears 4th. She is also ranked 16th in the table of stars of her age group. These statistics are quite a success story for an amateur celebrity.
8. She owns a cosmetic product
Far from reality TV, Peggy Sulahian is an entrepreneur, who owns her line of cosmetic products. She proudly owns an outstanding hair teaser and spray named Alkali beauty. She launched the product back in 2018, and it continues to do well in the world of cosmetics. She fervently advertises this product on her social media accounts.
9. Her hobbies and interests
Peggy Sulahian is a fun-loving celebrity as seen on her social media accounts. On her Instagram, she flaunts multiple pictures having a great time. The beautiful woman is a big fan of vacations, and she is always out and about whenever she gets the opportunity. Lucky for her, her husband can comfortably afford them. Peggy also loves flashy sports cars and even occasionally participates in sports car racing for pleasure. She also enjoys swimming but claims she does not like beaches due to the bothersome sand on them.
10. Her net worth
Peggy Sulahian is doing very well financially. Having participated in a whole season of the Real House Wives of Orange County, Peggy Sulahian is guaranteed to have earned a lot of money. If at all Lisa Rinna of RHOBH receives $450,000 per season, then Peggy's amount is still lucrative. She also draws significantly high amounts from her cosmetic sales as well as from sponsored ads on her Instagram account. As of July 2019, her combined net worth with her husband is estimated to be around $6 million. Peggy Sulahian owns a collection of expensive luxury cars that include, a Ferrari and an Audi. Furthermore, her family owns a house in the exclusive Crystal Clove Community in Beverly Hills.