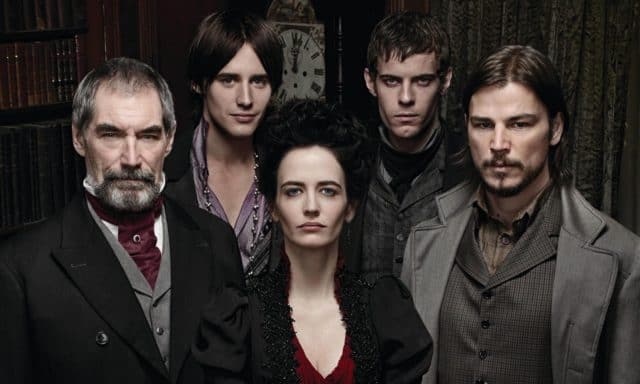 Penny Dreadful, the British-American television series which took its name from the cheap serial stories published weekly in 19th century Britain, was filled with familiar Gothic fictional characters. The series lasted just three seasons, but during that time fans and critics alike came to admire the wonderful acting, fascinating mysteries, engaging horrors, and unique characters. From 2014 through 2017, the show won or was nominated for a wealth of awards ranging from the Bram Stoker Awards to the Primetime Creative Arts Emmy Awards and many more. Here's a brief update on the incredible main cast members.
Reeve Carney  (Dorian Gray)
Reeve Carney had been a musician long before he took on the role of Dorian Gray. He also had acting success on Broadway performing in the hit musical "Spider-Man" Turn Off Thee Dark". Most recently, he's been promoting his debut solo album. In 2017 he presented the Youth is Wasted Tour. The "Youth is Wasted Album" was nominated at the 2018 Independent Music Awards in six categories, ultimately winning three awards. Reeve also had his solo concert debut at The Green Room 42. He performed songs from "Youth is Wasted", and some famous Broadway tunes. He's scheduled to be seen in an upcoming biopic about Jeff Buckley, the Irish singer who drowned in 1997. The film is titled Mystery White Boy. Reeve's shares obvious similarities to Buckley. Both musicians spent their early years growing up in California, both play jazz guitar in school, and Reeve could be Buckley's twin.
Timothy Dalton  (Sir Malcom Murray)
Timothy Dalton already had an impressive biography before his three-season portrayal of Sir Malcolm Murray. Most notably, he was James Bond. After that, he took on roles in films such as The Rocketeer, The Informant, and Mary, Queen of Scots. He also has many television and theater credits. Now in his 70s, the Welsh actor accepts phone call offers for parts. The latest news is that he is scheduled to reprise his role as the voice of Mr. Pricklepants in Toy Story 4, which is scheduled for release in 2019. Dalton made a great Mr. Pricklepants in Toy Story 3 and his fans are anticipating his return.
Eva Green (Vanessa Ives)
Eva Green has just been announced as one of three actors who have been signed to star in a brand new science fiction thriller titled A Patriot. The film is about an authoritarian police state on a future world where post-apocalyptic natural resources do not exist in abundance. Ed Skrein and Kathy Bates are scheduled to join her.
Rory Kinnear  (The Creature, aka Caliban and John Clare)
Rory Kinnear has just embarked on a performance as Macbeth in The Royal National Theatre's new dystopian version of Macbeth. The London production is set without regard to historic time and place. The location is barbaric and civil war surrounds the characters. It is an ambitious take on the classic play, and it has taken a good measure of criticism in the press. However, Kinnear has been noted for the worthy Shakespearean actor that he is. The production opened at the Olivier Theatre in London on March 6, 2018 and closes on May 12, 2018
Billie Piper  (Brona Croft/Lily Frnakenstein)
Billie Piper has just signed a deal to become the director and writer of Rare Beasts, which is described as an anti-romantic comedy about a modern, feminist women who falls in love with a decidedly traditional man. Billie will star in the film as well. Western Edge Pictures will be the production company. The film is scheduled to begin filming in September. The announcement about Billie's new project was made at the 2018 Cannes Film Festival.
Danny Sapani   (Sembene, Sir Malcolm's ally)
Danny plays the Border Tribe Elder in the recently released film Black Panther. It's a story about T'Challa, who becomes the king of the isolated yet technologically advanced nation of Wakanda. The story includes claims to royalty and vengeance sought by an outsider. The film premiered on February 16, 2018.
Harry Treadaway  (Dr. Victor Frankenstein)
Harry took on the role of Miles in the 2018 film Gringo. STX Entertainment and Amazon Studios released the film on March 9, 2018. Gringo is a comedy set in Mexico and features a businessman who travels to Mexico and is kidnapped because he's delivering a prototype pill made of marijuana.
Josh Harnett  (Ethan Chandler born Ethan Lawrence Talbor)
Josh portrays an investigative journalist in the newly released thriller by Daniel Roby. The crime film is titled Gut Instinct and it is inspired by a true story. Josh attempts to discover the truths about a man who is serving a 100-year sentence in a prison in Thailand for dealing drugs. While the journalist tracks down the truth, the prisoner is suffering from abuse and torture. Josh's new role was revealed in the May 9, 2018 issue of The Hollywood Reporter from the Cannes Film Festival.
Helen McCrory  (Evelyn Poole/Madame Kali of the NIghtcomers witches coven)
Helen McCrory was Narcissa Malfoy in the Harry Potter films. She also had roles in Skyfall, Peaky Blinders and The Queen. Now she'll star in a BBC thriller-drama with Richard Gere and Billy Howle. It's a series titled MotherFatherSon which will air in eight parts. Novelist Tom Rob Smith is joined by director James Kent. The series includes divorced Kathryn and Max, and their son Caden who cannot resist danger. Complex social and sexual behaviors are the norm for this fascinating, but broken, family.
Simon Russell Beale  (Egyptologist Ferdinand Lyle)
Simon Russell Beale, CBE, esteemed English actor and music historian has received acclaim and popularity for his work in British theatre. He recently received the 2017 BIFA Best Supporting Actor for the Death of Stalin.
Patti LuPone  (Dr. Florence Seward, alienist and psychotherapist in season 3 and Joan Clayton in season 2)
Patti LuPone, acclaimed Broadway star, recently joined forces with Ben Platt to perform a musical tribute to Leonard Bernstein and Andrew Lloyd Webber at the 2018 Grammys. Though LuPone and Webber hadn't spoken to each other since he fired her in 1994 from her role in Sunset Boulevard, the two rehearsed together for LuPone's Grammy performance of "Don't Cry for Me Argentina".
Wes Studi  (Apache Kaetenay who is connected to Ethan, ally to Sir Malcom in season 3)
Cherokee Wes Studi is featured in An Evening with Wes Studi at the 2018 Twister Alley Film Festival in Oklahoma. Studi is a native of Oklahoma, and the festival showcases Oklahoma films and filmmakers. Studi's film credits include The Last of the Mohicans, Avatar, and Hostiles. Studi also introduced a tribute to military movies at the March 2018 Oscars. Studi is a veteran of the Vietnam War, where he served with Alpha Company in the 39th Infantry. Studi spoke in the Cherokee language to end his introduction.