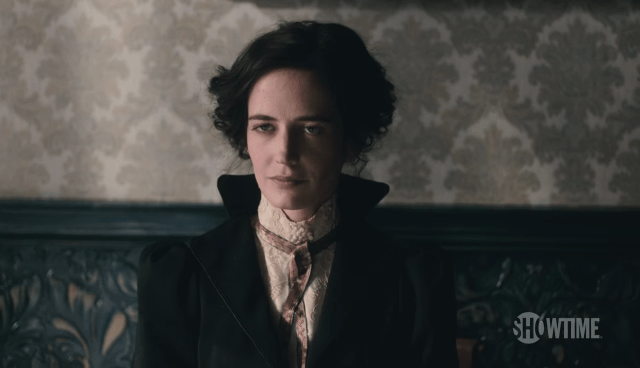 Did you watch that first episode? If not, what in the name of Dracula are you doing here? For your information, SHOWTIME has a free trial period which you can utilize to watch that first episode. And I hear you can watch it for free on Youtube too. But it's great if you've watched it because it looks like we're back to business in Penny Dreadful episode 2. SHOWTIME's been heavily teasing this one. They've gone ahead and released a bajillion previews, clips and sneak peeks which are hard to collect. Most of them look spoilery as hell so you'd do best to stay clear of them. But they've also released a rather condensed preview which looks clean to me. If you want, you can look up the clips and sneak peeks but I'm gonna discuss the Preview here:
We also have a synopsis to accompany this:
Lily (Billie Piper) and Dorian (Reeve Carney), rescue a young woman. Sir Malcolm (Timothy Dalton) continues on his journey with the enigmatic Kaetenay (Wes Studi). Meanwhile, Ethan gets some unexpected help from Hecate (Sarah Greene). Dr. Frankenstein (Harry Treadaway) and Dr. Jekyll (Shazad Latif) hatch a plan. Vanessa's relationship with Dr. Sweet (Christian Camargo) grows but, unbeknownst to her, evil forces are tracking her every move."
So, this means that Frankenstein is still taking advice from Dr. Jekyll. What a splendid idea. The young woman Lily and Dorian rescue can be seen in the trailer, but you also have Lily saying(Supposedly to Frankenstein) that he won't like what she's become. Of course, Lily is supposed to be evil but at least it looks like she's trying not to be. In the end, I guess it won't matter. We are talking about Penny Dreadful after all where evil is evil. Don't know much about this Hecate woman, except from Greek Mythology. She's supposedly the queen of witches. Every single depiction of her is evil. So God knows why she's helping Ethan. Sir Malcolm seems to be warming up to his new friend while Vanessa is cuddling up to Dr. Sweet. Now here's what I think: Dr. Sweet is Dracula. Seriously, he pops out of nowhere and starts a relationship with Vanessa? That just doesn't happen. Ethan turned out to be a werewolf and I'm guessing Dr. Sweet will turn out to be Dracula. Apart from that, take note of the monsters that'll be appearing in the next episode. Looks like everything will be much more fast paced.
Penny Dreadful airs on SHOWTIME at 10:00 PM.